Telly couple Gurmeet and Debina become proud parents to two girls
Telly couple Gurmeet Choudhary and Debina Bonnerjee has adopted two girls, Pooja, and Lata from the actor's home town Jarampur in Bihar. Gurmeet Choudhary and Debina will be heading towards the city after the festival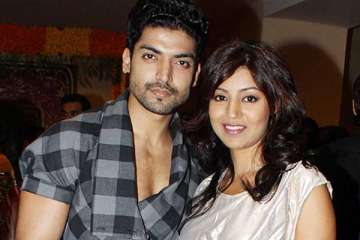 India TV Entertainment Desk
New Delhi
March 06, 2017 13:40 IST
Telly couple Gurmeet Choudhary and Debina Bonnerjee has adopted two girls, Pooja, and Lata from the actor's home town Jarampur in Bihar.
Gurmeet Choudhary and Debina will be heading towards the city after the festival of Holi to complete the remaining formalities.
If reports are to be believed, then the actors was very happy and excited as he said that people used to ask him when he was planning a baby, and now things are official. Gurmeet Choudhary further stated that the couple will go to Jarampur to complete the remaining formalities that will hardly take two days.
It was also being heard that Gurmeet and Debina were aware that it would be difficult for little girls to settle in Mumbai. Thus, they have decided to educate the girls in Patna, and after a year girls will shift to Mumbai. Gurmeet informed that his mother who lives in the city will look after the girls, in their absence. The couple will also visit them 3-4 times in a year.
Gurmeet and Debina had previously met the little girls in Jarampur when they attended the family wedding. He was informed by his mother that the girls had to work in household for their livelihood. Thus, he discussed it with Debina who agreed to give home and Gurmeet's last name to the girls.   
Yesterday, filmmaker Karan Johar also announced that he became the father of twins through surrogacy. Well, it seems that god is showering his blessings on actors and filmmakers these days.