This is why close friend Shah Rukh Khan didn't congratulate new dad Karan on social media
Superstar Shah Rukh Khan who walked the ramp at the Mijwan charity fashion show for fashion designer Manish Malhotra said that he didn't wish filmmaker and friend Karan Johar on becoming father because it was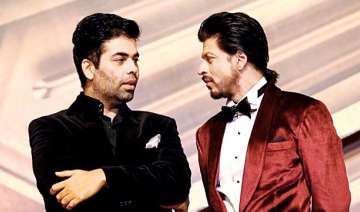 India TV Entertainment Desk
New Delhi
March 06, 2017 15:57 IST
Superstar Shah Rukh Khan who walked the ramp at the Mijwan charity fashion show for fashion designer Manish Malhotra said that he didn't wish filmmaker and friend Karan Johar on becoming father because it was a personal moment for him.
Karan Johar became a single parent to twins through surrogacy and news was announced yesterday.
Shah Rukh Khan, while speaking with the media at the event, said that he had experienced this feeling in the past and it was too personal.
He added that people should respect it, and was quick to add that they can have celebrations later.
SRK said, "We wish him happiness. But it's still very personal. So, don't think that I am being cagey by not answering about it. I have had this moment in my life so I know how personal it is. So, let's respect it and leave it to that. We will have love, celebrations, happiness and health later."
Karan Johar became the single parent of twins through surrogacy. He named them Yash and Roohi. Many Bollywood celebrities including Alia Bhatt, Varun Dhawan, Farah Khan congratulated the filmmaker and also showered their love on his kids. While social media was flooded with messages, SRK didn't wish Karan on social media. This caught everybody's attention as the both Shah Rukh and Karan are close friends.
Now, it is clear that Shah Rukh has a completely different take on it.