Tubelight's little friend Matin shines, wins over Salman Khan. Watch video
Tubelight film's behind-the-scenes video featuring Salman Khan and Matin Rey Tangu is amusing and endearing.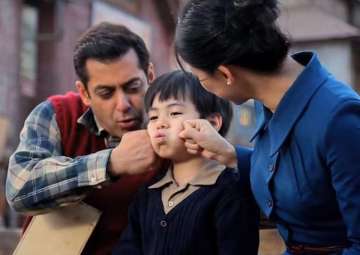 India TV Entertainment Desk
New Delhi
June 23, 2017 13:13 IST
Kabir Khan's film Tubelight starring Salman Khan has introduced a sparkling star to the world in the form of Matin Rey Tangu, the little kid in the film. From the moment he was on-boarded, everyone on the sets was impressed by his energy and innocence. Salman Khan, who all of us know, loves children cannot stop himself from praising the kid. The Dabangg star sees in the child a pure soul and a compassionate heart. 
The filmmakers released a video showing the amazing bond between the two actors. The behind-the-scene moments that are amusing and endearing in their own ways. It is simply refreshing to see the budding actor evolve and shine. By the end of it you will also fall in love with the little charmer.
Matin's hilarious press conference
Matin cracked up everyone with his answers in the press conference. Watch Here 
Photos of Matin Rey Tangu on the sets. 
In Tubelight, Salman Khan has transformed himself into an innocent, child-like man and has let go of his macho avatar that he mostly dons in his films. The film's message is simple - love can conquer everything. However, the reviews so far indicate a flickering, not a full glow for the film. Read Tubelight early movie review
More about Tubelight
Everything you need to know about Tubelight