For wife Twinkle's maiden production, Akshay to turn into 'sanitary man'
A few days ago, news surfaced that superstar Akshay Kumar will be starring in wife Twinkle Khanna's first production movie. To be produced independently under Twinkle's 'Mrs Funnybones' banner, the movie will be directed by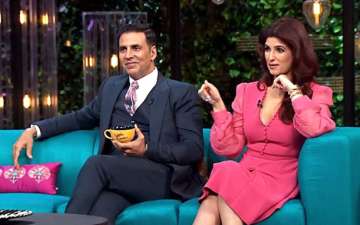 India TV Entertainment Desk
New Delhi
December 16, 2016 14:42 IST
A few days ago, news surfaced that superstar Akshay Kumar will be starring in wife Twinkle Khanna's first production movie. To be produced independently under Twinkle's 'Mrs Funnybones' banner, the movie will be directed by R. Balki.
Now an interesting development about the same has seen light of day. Media reports have it that Akshay will play the role of Arunachalam Muruganantha, the man who featured in Twinkle's second book 'The Legend of Laxmi Prasad' as the 'sanitary man'.
Hailing from a small town of South India, Arunachalam was upset with the unhygienic alternatives women from his village turned to during menstruation. He then began finding ways to make cheaper sanitary napkins. He wanted women in his village to find better options to the expensive napkins made by multinational companies.
In the beginning, subject of Arunachalam's experiment were females in his family. But soon they were fed up of his obsession and refused to be part of it. But, Arunachalam didn't give up and he continued experiments by using a bladder with animal blood.
Arunachalam's dedication bore fruit and he was successful in devising low cost, easy to operate machines for sanitary napkins.
Speaking about why Twinkle wrote about him in her second book, she had said his story intrigued her. Now it seems Arunachalam's unique story will be seen on silver screen soon.
It was reported that megastar Amitabh Bachchan, actresses Sonam Kapoor and Radhika Apte too have been roped in for this project. The movie is expected to hit screens in 2017.