Twitter slams Ram Gopal Varma for his sexist comment on Women's Day
On the special occasion of International Women's Day when our beloved Bollywood celebs took to social media and wished their fans, controversial filmmaker Ram Gopal Varma made a chauvinist remark that didn't go too well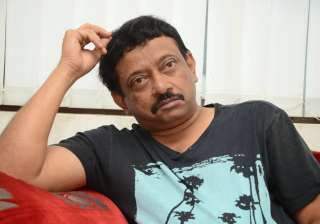 India TV Entertainment Desk
New Delhi
08 Mar 2017, 07:04 PM IST
On the special occasion of International Women's Day when our beloved Bollywood celebs took to social media and wished their fans, controversial filmmaker Ram Gopal Varma made a chauvinist remark that didn't go too well with the public. 
So, Twitteratis took charge and blasted the filmmaker to the fullest.
RGV targeted porn star Sunny Leone on his Twitter handle today and made a controversial remark on her.
"I wish all the women in the world give men as much happiness as Sunny Leone gives", he tweeted.
In another shocking tweet, the director said that he wonders why nobody celebrates Men's Day.
"Is there no Men's Day because all days in the year belong to only men and the women were given just only one day", he tweeted
While the "Jism 2" actress Sunny took RGV's statement lightly and replied with a smiley, Twitteratis couldn't control their anger and blasted the director in the meanest way possible.
Check out some tweets that really thrashed RGV
Hope ur Mother too gave men what Sunny leone is giving to everyone.. 😊 @RGVzoomin https://t.co/5uNBL4wd8J

— Mօɖɨʄɨɛɖ Rɛռʊ (@renu_18) March 8, 2017
All the women in the world wish you @RGVzoomin to continue giving attention to virtual reality sparing the real world of your assholery

— Monica Jasuja (@jasuja) March 8, 2017
U hv become Senile bcoz of all d #Flops, made by U -need 2be admitted to #MentalAsylum

— JYOTSNADEVIMARDRAJ (@jyotsnadevi33) March 8, 2017
i was ur fan because of sattiyia and company. But how low one can b in his statements mr RGV

— sadia☔️☂☔️ (@sadia_myvoice) March 8, 2017
I wish all the men in the world stop giving women as much horror as your movies do. Not to mention crass innuendos.

— Rita Bhattacharjee (@ribhattacharjee) March 8, 2017
राम के गोपाल तुमसे तो ये उम्मीद ना थी..जिस माँ के कोख से पैदा लिए हो उसका तो क़द्र करो थोड़ा सा..या सुबह सुबह पैक बना लिए थे.🙏🇮🇳

— Anshu Vats🌠 (@Anshu_Vats1) March 8, 2017
that will be fun only if the men would give as much happiness in return. Solo performance doesn't make a good act. ;)

— Chirantana Bhatt (@chirantana_) March 8, 2017
🗣हरामखोर नशेड़ी,पैरो की जूती सर पर नहीं रखी जाती😡सारी नारी जाति की सनी लियोन से तुलना मत कर,भूतकाल की गंदगी वर्तमान नही होती🕵🏃 pic.twitter.com/PY6Dv17OkQ

— राणा#राष्ट्रवादी🙏🚩 (@tanhadil1981) March 8, 2017