Watch video: Hollywood superstar Hugh Jackman wants this popular Khan to play 'Wolverine'
Hollywood heartthrob Hugh Jackman, who is extremely excited for his upcoming film "Logan", recently revealed that he wanted the Badshah of Bollywood Shah Rukh Khan to play the role of "Wolverine". Speaking to Indian film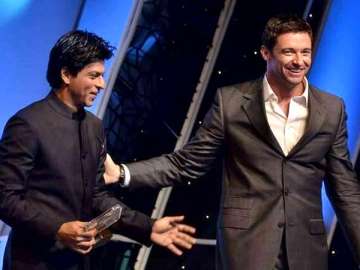 India TV Entertainment Desk
New Delhi
March 01, 2017 17:01 IST
Hollywood heartthrob Hugh Jackman, who is extremely excited for his upcoming film "Logan", recently revealed that he wanted the Badshah of Bollywood Shah Rukh Khan to play the role of "Wolverine".
Speaking to Indian film critic Rajeev Masand, the Australian actor expressed his eagerness about his last ride as the Wolverine in "Logan".
The 48-year-old actor is leaving no stone untouched to make certain that the film turns out to be the greatest Wolverine/X-Men movie till date.
While everybody is excitedly awaiting the final Wolverine film, several are speculating as to who would play the next "Wolverine".
When Rajeev asked the superstar if he would be comfortable watching other actor play the role of his classic character "Wolverine", he said, "I think I'll be fine with it. I hope other people play it. May be Shah Rukh Khan could play it." 
Hugh also said that the comic book series was so good as it had several people interpreting this role. 
"There are six origin stories. I'll be really interested to see how I feel about it. I want it to be really great. But I don't want it to be that much better than me. Just a little bit is fine. But if everyone is like 'oh thank god..now,' I might find that little difficult", Hugh added.
In 2011, when the international icon was in India for FICCI Frames, SRK was the one who hosted him and they had even set the dance floor on fire, accompanied by Vidya Balan.
Hugh recently underwent his sixth cancer treatment. 
He took to Twitter on Tuesday to reveal that he is undergoing treatment for basal cell carcinoma, again. The actor also advised people to use sunscreen.
The actor had his first skin cancer removed from his nose in 2013, when his wife Deborra-Lee Furness told him to go to the doctors to get a mole checked.
Hugh's "Logan" is receiving enthusiastic reviews from the critics, so it is clear that the actor perhaps wants to leave the franchise on a high. 
"Logan" will hit the cinemas on March 3.