We've left humanity far behind: Renuka Shahane reacts to Pradyuman murder case
Actress Renuka Shahane has shared a hard-hitting post on Pradyuman murder case.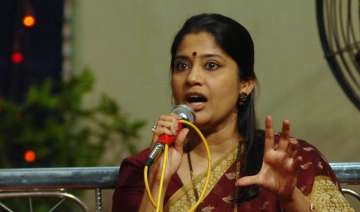 Written by: India TV Entertainment Desk
New Delhi
November 09, 2017 16:43 IST
The Ryan International murder shocked everyone including the celebrities. As the case has taken a new turn with CBI arresting a 16-year-old student in connection with it, actress Renuka Shahane has written a hard-hitting Facebook post that perfectly describes the anger of the whole nation. In a lengthy post, she stated that 'violence is considered cool these days & in the run for grades we've left humanity far behind.'
Renuka said, "I'm sure all of you must have heard who the real culprit is in the Pradyuman murder case. The CBI has taken into custody an 11th grader who allegedly thought nothing of slitting the throat of an innocent 7-year-old school boy just so that the school will have to declare a holiday, exams won't be held & ptm won't follow soon after. It sickens me how violence is considered cool these days & in the run for grades we've left humanity far behind."
The rich parents, the management of the school & the Gurugram police who did such a shoddy job, didn't mind making a scapegoat of an innocent man whose only crime was his poverty. It's time "International Schools" wake up & start actually educating their pupils. And somewhere I hope somebody is teaching the rich that not everything can be bought with money; definitely not good values & definitely not a good education. There are no short cuts in life & no expressway has milestones! RIP Pradyuman.
On a related note, the investigation agency has stated that class 11 student, who has been arrested, wanted to postpone a parent-teacher meeting and defer an exam. CBI has also added that they have not found any evidence against bus conductor Ashok Kumar.