Aamir Khan to help Imran Khan make a comeback
Imran Khan who took a break after a series of flops is hoping his upcoming movie "Katti Batti" changes his fortunes. To make sure this movie proves to be a comeback for Imran Khan, guess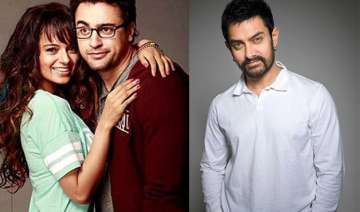 India TV News Desk
03 Aug 2015, 17:18:58 PM IST
Imran Khan who took a break after a series of flops is hoping his upcoming movie "Katti Batti" changes his fortunes. To make sure this movie proves to be a comeback for Imran Khan, guess who is taking care of post production tasks?
The perfectionist Aamir Khan.
Rumours have it that Aamir Khan, along with wife Kiran Rao, was approached for expert advice on the movie. The movie's first copy was shown to the couple and they are eager to promote the movie.
"Katti Batti" is a critical movie for Imran Khan. After not being able to make an impression with his last 2013 release "Gori tere pyaar me", Imran is seeking advice from his maternal uncle to ensure that this movie does well.
An insider revealed, "Since it's his comeback film, he doesn't want to take any risk. Aamir is actively getting involved in the post-production job as well as the marketing strategy. He is giving creative inputs on the film's edit and suggesting changes to make the film more interesting.""
"Katti Batti", directed by Nikhil Advani, is a youthful drama portraying open relationships. Slated for a release on 18th September this year, Imran Khan and Kangana Ranaut will be seen romancing each other for the first time in this movie.