'Sexist' Interview Impact? Aamir Khan invites Sunny Leone for 'special lunch'
New Delhi: A few weeks ago when Sunny Leone was subject to a 'sexist' interview, as the entire social media claimed, she made many fans across the nation. The interviewer kept grilling her with questions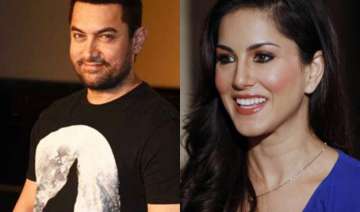 India TV Entertainment Desk
February 08, 2016 18:19 IST
New Delhi: A few weeks ago when Sunny Leone was subject to a 'sexist' interview, as the entire social media claimed, she made many fans across the nation. The interviewer kept grilling her with questions about her past, the one in which she was an adult movie star.
Throughout the interview, Sunny maintained a strong stance and answered the questions fired at her. Post her interview, she was praised by almost the entire Bollywood, including superstar Aamir Khan.
Aamir's praise deserved a special mention as during the interview Sunny said that probably he would not like to work with her but she would never miss out an opportunity to act along with him. To this, Aamir took to Twitter to say, "I think Sunny conducted herself with a lot of grace and dignity. I wish I could have said the same about the interviewer. Sunny, I will be happy to work wid you. I have absolutely no problems with your "past", as the interviewer puts it."
And from what we hear, Aamir has already lunched with Sunny. The '3 Idiots' star, who was in Delhi to shoot for 'Dangal', learnt that Sunny was in the national capital for a promotional event. Aamir made full use of the opportunity and made sure to have a meeting with Sunny.
Aamir invited Sunny and her husband Daniel Weber to his hotel for a lavish lunch comprising naans and sabzi topped with butter, suggest media reports.
The conversation spilled over into evening tea before they called it a day. Aamir then extended an invitation to them to visit him on the sets the next day," revealed a source to a leading daily.
Sunny was awed by Mr. Perfectionist's style of acting. "She obliged everyone with selfies and while leaving, gave him a warm hug," added the source.