Meet crabby George of 'Airlift': 10 things no one knew about this talented actor
New Delhi: By now, probably the entire nation has seen Akshay Kumar's 'Airlift'. Made with the motive to tell Indians the turn of events of 1990 when Iraq invaded Kuwait, the movie has garnered loads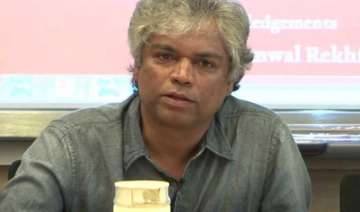 India TV Entertainment Desk
February 07, 2016 10:07 IST
New Delhi: By now, probably the entire nation has seen Akshay Kumar's 'Airlift'. Made with the motive to tell Indians the turn of events of 1990 when Iraq invaded Kuwait, the movie has garnered loads of praise. Akshay's Ranjit Katyal has already become one of the most loved on screen characters after 'Airlift'.
For those who have seen the movie, there was one character who was hated in equal measure, George. Played by Prakash Belawadi, George cribbed and ranted in the entire movie.
On social media, parallels are being drawn between George and Delhi Chief Minsiter Arvind Kejriwal. Speaking about his character, Prakash told a leading daily, "You know it's the Indian middle-class man. Because you feel somehow the system will cheat you out of something. He represents in a sense cynicism while the protagonist represents action. There's a little bit of George in every Indian."
It wouldn't be flattering to say that Prakash did complete justice to his role. As we sing praises for his impeccable acting, we tell you hidden facts about Prakash which will leave you in his awe.
1. Prakash's first love is theatres. A Bangalorean by heart, he feels Bangalore is the second big theatre centre of India after Mumbai.
 
2. He has starred in movies like 'Madras Cafe' (2013), 'Talvar' (2015) and 'Wazir' (2016). Prakash's role of a drunken Indian intelligence officer in 'Madras Cafe' put him in the National map of cinema.
 
3. Six years ago, Prakash had contested in Bangalore's city corporation elections from Sunkenahalli ward as a Lok Satta candidate. He had received close to 900 votes.
 
4. Prakash is the director of a National award winning movie, 'Stumble' (2002). For this movie he borrowed money from his friends, sold his house, car and studio.
5. Prakash has donned many hats in his life and a journalist is one of them.
 
6. Belawadi's family consists of noted theatre personalities. His father Belawadi Nanajundiah Narayana, was popularly known as 'Make-up Nani'.
 
7. Acting runs in the Belawadi family. Prakash's both sisters have acted in plays and television. His two daughters, one charted accountant and other an undergraduate student, are involved with theatre as well.
 
8. His parents met and fell in love backstage. His house in Bangalore is called, 'The Green Room'.
 
9. Prakash isn't quite comfortable with the selfie culture, though he is flooded with such requests wherever he goes. ""The thing is, when that selfie thing comes, I don't hang around for the next one to come because that's not my job," he said.
 
10. Despite getting a lot of movie offers from Mumbai, he has even appointed an agent in the city of dreams to take care of it; the 54 year old says he will never shift there. "I am too invested in Bangalore."