Akshay, John Abraham Almost Come To Blows
Mumbai, April 2 : Bollywood actors Akshay Kumar and John Abraham almost came to blows on Friday at the screening of Housefull 2, says a media report. Caught on camera by a photographer who was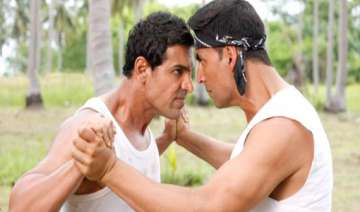 PTI
April 02, 2012 13:23 IST
Mumbai, April 2
: Bollywood actors Akshay Kumar and John Abraham almost came to blows on Friday at the screening of Housefull 2, says a media report.
Caught on camera by a photographer who was late in leaving the venue after the screening of the film at a theatre in Mumbai, the actors got into a heated argument that soon escalated into what seemed like a physical fight.
While most guests had left by then, the few eyewitnesses who were present revealed that the altercation got to a point where the actors' bodyguards had to intervene.
The private screening of the film, meant for close friends, and family, apparently ignited a debate about who was behind the success of their last hit Desi Boyz (2011), which fared well at the box-office.
"Someone made a joke comparing the two, and what started as a harmless banter suddenly got serious.
Back in the day there were some rumours of rivalry between the two even during their film Garam Masala (2005); so that could have made matters worse. Both of them are known to be hot headed anyway," said a crew member.
Ironically, the two  have maintained a cordial relationship in the press as there have been regular reports about Akshay's son, Aarav, being a big fan of John.
The actors who got miffed at spotting the cameraman pictures, refused to respond to messages. 'Everything's well. It was just a silly argument that's sorted," explained the film's spokesperson later.