Alia and Shahid look good on screen, says Shaandaar director
Mumbai: Director Vikas Bahl feels that his Shaandaar co-stars Shahid Kapoor and Alia Bhatt, who are paired on screen for the first time, look good together.Vikas who earlier directed Kangana Ranaut's Queen also said that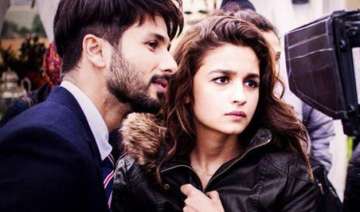 PTI
17 Aug 2015, 9:21:50 AM IST
Mumbai: Director Vikas Bahl feels that his Shaandaar co-stars Shahid Kapoor and Alia Bhatt, who are paired on screen for the first time, look good together.
Vikas who earlier directed Kangana Ranaut's Queen also said that the duo share a good chemistry.
"I always felt that they look good on screen. They have a good chemistry in the movie," Vikas told PTI.
In Shaandaar, Shahid is a wedding planner, Jagjinder Joginder, who is in charge of organising the marriage ceremony of Alia's sister.
When asked about whether he was apprehensive or not to cast Shahid in a romantic comedy post his serious stint in Haider, Vikas said, "There is no pressure like that. He has hardly done intense roles like Haider. He is a fun actor. This is his space and he enjoyed doing the film. We had a lot of fun."
The film also stars Shahid's real life father Pankaj Kapur, who plays Alia's dad in the film. His half-sister Sanah Kapoor makes her Bollywood debut with the film, playing the bride in the destination wedding drama.
Co-produced by Phantom Films, Karan Johar's Dharma Productions and Fox Shaandaar will hit theatres on October 22.