Amitabh Bachchan, Karan Johar, Anupam Kher attended Pran's funeral (view pics)
Mumbai, Jul 14: Bollywood's greatest villain, the legendary actor Pran was cremated at Mumbai's Shivaji Park on Saturday.Bollywood stars namely Amitabh Bachchan, Shatrughan Sinha, Raj Babbar, Anupam Kher, Gulzar, Ranjit, Raza Murad, Kiran Kumar, Salim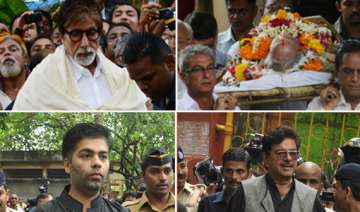 PTI
July 14, 2013 13:20 IST
Mumbai, Jul 14:
Bollywood's greatest villain, the legendary actor Pran was cremated at Mumbai's Shivaji Park on Saturday.
Bollywood stars namely Amitabh Bachchan, Shatrughan Sinha, Raj Babbar, Anupam Kher, Gulzar, Ranjit, Raza Murad, Kiran Kumar, Salim Khan, Karan Johar, Shakti Kapoor among others gave their final respects to the late actor.
Pran's wife Shukla and his sons including Arvind and Sunil were all bursting into tears. It seemed like heavens itself was crying as it rained heavily there.
The Dada Saheb Palkhe awardee's body was festooned with flowers. There was ample of security at the venue.
Pran's film repertoire included over 400 projects in over six decades of his association with cinema.
He had not been keeping well since the past few months, and was in and out of the Lilavati hospital lately.
On Friday evening, the legendary actor took his last breath there.