Anushka Sharma spotted with a mystery man in Virat Kohli's absence
Anushka Sharma spotted with TV actor in Delhi metroNew Delhi: Anushka Sharma might be all around while promoting Bombay Velvet, but the latest news around her would leave you wondering a lot about the lady.The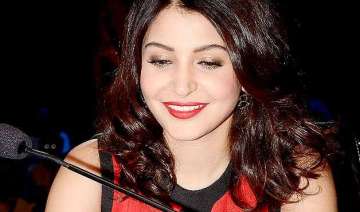 India TV News Desk
April 29, 2015 17:59 IST
Anushka Sharma spotted with TV actor in Delhi metro
New Delhi: Anushka Sharma might be all around while promoting Bombay Velvet, but the latest news around her would leave you wondering a lot about the lady.
The actress was recently spotted with a man and that was not Virat Kohli. And neither was he Ranbir Kapoor or any other of her buddies from the industry.
We spotted the lady with a handsome hunk that might come as a familiar face to you all, in Delhi metro.
Yeah, the man was Anuj Sachdeva, TV actor who portrayed the character of Amrit Malhotra in hit TV show 'Sabki Laadli Bebo.' What would intrigue you more to now is the revelation that both the stars were getting apparently too close to witness publicly.
Well, if you don't believe than check out the picture...
There you go...Anushka Sharma has once again let the magic of her beautiful skin to do the entire talking. In her latest ad for a beauty product, the lady in blue can be seen wooing her man (Anuj Sachdeva) with those flawless underarms.
Though we spotted the particular ad while travelling in Delhi metro, it is all on everywhere. And this we conclude as the range of Virat-Anushka's love that we are unable to resist her with someone else even if it is for an ad.
Clad in a royal blue gown, Anushka is surely looking ecstatic. Let's just count to witness her with Virat Kohli in some TVC soon!