Virat Kohli confirms his break-up with Anushka Sharma, calls her a 'controlling girlfriend'
New Delhi: It's a season of break-ups going on in the tinselvile. Every since 2016 has kick-started, several celeb couples have headed towards split.The first shock came in early January, when one the most adorable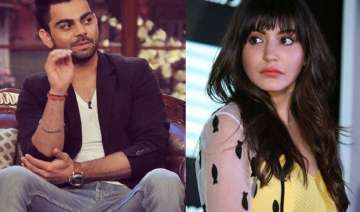 India TV Entertainment Desk
February 09, 2016 13:46 IST
New Delhi: It's a season of break-ups going on in the tinselvile. Every since 2016 has kick-started, several celeb couples have headed towards split.
The first shock came in early January, when one the most adorable couple Ranbir Kapoor and Katrina Kaif called it quits.
Then came the news of Farhan Akhtar and Adhua's divorce followed by reports of rift between Arbaaz Khan and Malaika Arora.
And now when Valentine's Day is around the corner, another couple has parted ways.
We are talking about Anushka Sharma and Virat Kohli.
The couple were dating for two long years but have reportedly called it quits now.
Although there hasn't been any official announcement from either Anushka or Virat but reports are rife about their break-up and the reason behind their split.
But it seems, Virat has cleared the air now as the Indian cricketer was recently spotted calling himself 'SINGLE'.
According to the media reports, Virat Kohli, who was seen partying during Angad Bedi's birthday bash, had set the dance floor on fire and was spotted greeting other guests with the one-liner 'I'm single, let's dance'.
In fact, if the gossip mills are to be believed, Virat not just gave a confirmation about his break-up but also referred to Anushka Sharma as a 'controlling girlfriend'.
Yes! It's true.
Reportedly, a source was quoted saying how Virat was overheard telling people at the party that he was 'cloistered around his controlling girlfriend'.
Apparently, Virat is said to have opted out of the India-Sri Lanka Twenty-20 series so that he could spend Valentine's Week with his lady love. However, Anushka chose to carry on with her career commitments without giving any heed to Virat which resulted in a dispute between the couple which finally ended in break up.
Currently, Anushka Sharma is busy shooting for her forthcoming movie 'Sultan' opposite Salman Khan which is expected to hit the silver screen on Eid this year.