Astrologer's Predictions About Bollywood Stars
-    The last thing Katrina should think of is about marrying Salman Khan -    Shah Rukh Khan is unshakeable, no one can shake him off from No.1 position-    Saif and Kareena should avoid tying the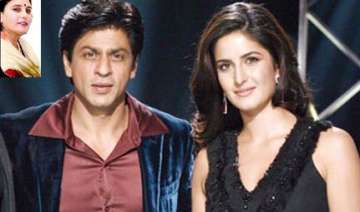 PTI
November 21, 2009 14:26 IST
-    The last thing Katrina should think of is about marrying Salman Khan
-    Shah Rukh Khan is unshakeable, no one can shake him off from No.1 position
-    Saif and Kareena should avoid tying the knot
-    Aamir Khan's 3 Idiots will not do well like Ghajini
-    Aditya Chopra should break free from YRF to become successful
-    Deepika Padukone's breakup with Ranbir will do her career a lot of good.
These are a bunch of predictions made in Mumbai's newspaper Mid Day by Shani expert cum astrologer Dr Vibhashree. She holds a doctorate from Rajasthan in the study of the planet Saturn.
Vibhashree claims she has been studying the effect of Saturn on celebrities from their date of birth, place of birth, numerology and after meeting them. She predicts what the future holds for Bollywood celebrities: 
 
SHAH RUKH KHAN
He has very powerful stars and no one can shake his position. 

KATRINA KAIF 
Katrina is in turmoil about her personal life.The last thing Katrina should think of is marriage to Salman. 

SAIF-KAREENA
They will not have a problem in their relationship if they don't marry. In other words, I think they should not tie the knot. 

AAMIR KHAN
He shouldn't produce too many films, in the long run it will not prove to be financially profitable. 3 Idiotswill not be as big a hit as Ghajini. 

AKSHAY KUMAR
He will cover the ground he lost with his string of flops but he won't go beyond that. 

YASH & ADITYA
Aditya's presence in Yash Raj Films reduces the power of the banner. If Aditya breaks free from YRF and works independently and flags off a different banner,Yashjican return to the position he enjoyed earlier. Dilwale Dulhaniya Le Jayenge worked because of Yashji and not Aditya. 

SHILPA-RAJ
Their marriage will work. Personal life will take priority for Shilpa. 

PRIYANKA CHOPRA
She will do well until 2010.After that, there will be few peaks in her career. 

DEEPIKA PADUKONE
Her break-up with Ranbir will do her career good.There are a lot of exciting things waiting for her. 

HRITHIK- SUSSANNE
From September, peace has returned in his house. Even if Hrithik's films don't do well, his producers will never lose money. 

ABHISHEK-AISHWARYA
They won't have any problems till Aishwarya becomes a mother. After that her dilemma between career and domesticity could create problems. 

SANJAY-MANYATA
Sanju's court case will once again create problems for him but he will eventually come out of it. Manyata will have a baby and they will not have any problems in their marital life.

AMISHA AND KANNAV
They will not marry. They are not as close as they like to project themselves to be. 
Keep these predictions with you and check out if they really do prove right. If she is right, then head straight to her, and if most of these predictions prove wrong, then junk.