At Shah Rukh Khan's party, no Priyanka Chopra, Kajol, Arjun Rampal, Juhi Chawla
New Delhi: SRK's Eid party was attended by the who's who of Bollywood including the Bachchan clan and the Roshans. Ever since the Eid party thrown by Shah Rukh Khan at mannat, the industry just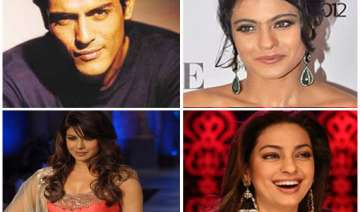 India TV Entertainment Desk
August 14, 2013 14:31 IST
New Delhi:
SRK's Eid party was attended by the who's who of Bollywood including the Bachchan clan and the Roshans. Ever since the Eid party thrown by Shah Rukh Khan at mannat, the industry just coudn't stop talking about it. With so many Bollywood celebrities gracing the event, what  let the tongues wagging was the absence of Shah Rukh Khan's 'close friends' Priyanka Chopra, Kajol, Arjun Rampal, Juhi Chawla. 
Neither Shah Rukh Khan's friend-turned-foe-turned-friend Arjun Rampal was present nor was one-time close friend Juhi Chawla. But among those who were, were Arbaaz Khan and his wife Malaika. Even Ajay Devgn and Kajol were invited but the couple did not attend. Shah Rukh's good friend Priyanka Chopra was also nowhere to be seen.
 Says an onlooker, "Perhaps Arjun's absence stood out like a sore thumb. Shah Rukh had extended an olive branch towards Arjun recently but looks like that it wasn't enough. But the presence of Salman Khan's brother and sister-in-law perhaps suggested that their newly rediscovered friendship could be here to stay. Juhi's husband Jay Mehta was also present."
It seems that Arjun who once took refuge in SRK's camp to when his career graph looked ready to die a natural death, needs his mentor no more after tasting overnight success.