What? Priyanka Chopra reveals climax of 'Bajirao Mastani'
Mumbai: Out of excitement, Priyanka Chopra revealed some of the interesting and a secretive stuff about her forthcoming film 'Bajirao Mastani' and this seems to have angered film's director Sanjay Leela Bhansali.Recently, there were reports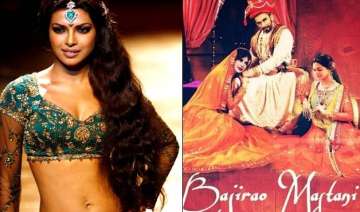 IANS
April 24, 2015 10:17 IST
Mumbai: Out of excitement, Priyanka Chopra revealed some of the interesting and a secretive stuff about her forthcoming film 'Bajirao Mastani' and this seems to have angered film's director Sanjay Leela Bhansali.
Recently, there were reports that film's lead actresses - Priyanka Chopra and Deepika Padukone will have a dance face off in the film, however, these reports got a confirmation when Prriyanka herself made a series of tweets on that. Obviously, this, reportedly, didn't go down well with Bhansali as he didn't want this important element to be revealed anytime. But Priyanka, out of excitement, let the cat out of the bag.
Well, we would suggest Priyanka to learn something from her co-star Deepika Padukone, who has not said or revealed anything about Sanjay Leela Bhansali's magnum opus.
The film also features actor Ranveer Singh.