Bhaag Milkha Bhaag earns over Rs 32.25 cr
New Delhi, July 14: Farhan Akhtar seems to be a money minting machine. The film is going strong at the box office. According to the latest figures, the film has garnered around Rs 32.25 cr.The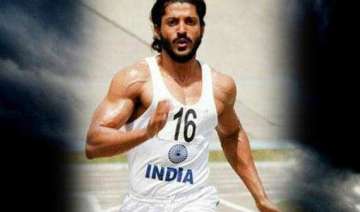 PTI
July 15, 2013 13:53 IST
New Delhi, July 14:
Farhan Akhtar seems to be a money minting machine. The film is going strong at the box office. According to the latest figures, the film has garnered around Rs 32.25 cr.
The paid preview shows of 'Bhaag Milkha Bhaag' took place in selected theatres on Thursday and it minted Rs 1.05 crore. The Box office collection on Friday started slow but by the evening it picked up and grossed Rs 8.50 crore.
On Fri the film raked in Rs 8.50 crore, on Saturday the figure went up to Sat 10.70 crore and on Sunday the film earned an estimated amount Rs 12 crore. Now the total is whooping Rs 32 .25 cr.
Though the flick has received mixed reviews but it isn't hampering its box office growth. It has surpassed the two days collection of Ranveer-Sonakshi Sinha's last week's release "Lootera" and Dhanush-Sonam Kapoor's "Raanjhanaa".
The film is directed by filmmaker Rakesh Omprakash Mehra and stars Farhan Akhtar and  Sonam Kapoor.