Big B Lends His Voice For 26/11 Tragedy Tribute
As the first anniversary of the Mumbai terror attacks draw closer, Bollywood megastar Amitabh Bachchan has lent his voice in a tribute to the people who lost their lives in the tragedy. The 67-year-old actor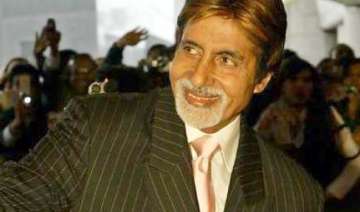 PTI
November 03, 2009 17:31 IST
As the first anniversary of the Mumbai terror attacks draw closer, Bollywood megastar Amitabh Bachchan has lent his voice in a tribute to the people who lost their lives in the tragedy.
The 67-year-old actor was asked by singer Sonu Nigam to be a part of the song which has been composed to support the cause, and Bachchan happily agreed. 
"Sonu Nigam, that talented singer from our world of film and pop and classical had asked me to participate in a song that he was doing for those whom we lost that fateful day.
I did," the superstar wrote on his blog.  The attacks, which happened on November 26 last year in major places of the city like Chhatrapati Shivaji Terminus, Oberoi and Taj Palace hotels, claimed many lives. 
A bevy of other singers from Bollywood too have participated in the song, which will honour the memory of the terror victims and foster a spirit of togetherness. 
"Many different singers from our trade had participated in it to lend it a spirit of togetherness and strength. Of faith in our independence, and the love for those that became ours in defending our freedom," wrote Bachchan. PTI