Big B Undergoes CT Scan At Mumbai Hospital
Mumbai, Apr 10: Megastar Amitabh Bachchan, who recently underwent an abdominal surgery, was today put through a CT scan at Nanavati hospital after he complained of excruciating pain.Bachchan was seen this afternoon along with son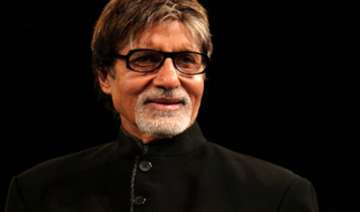 PTI
April 10, 2012 19:26 IST
Mumbai, Apr 10:
Megastar Amitabh Bachchan, who recently underwent an abdominal surgery, was today put through a CT scan at Nanavati hospital after he complained of excruciating pain.
Bachchan was seen this afternoon along with son Abhishek at Nanavati hospital in Vile Parle in suburban Mumbai. He remained at the hospital for over an hour.
The 69-year-old actor had last night revealed that he would undergo a CT scan today, as he has developed pain.
"So last night, just after I had finished with the blog, I rose from my desk to get to bed, but excruciating pain, stopped me in my tracks and I found it difficult to walk to stand to sit to lie down. Quite horrendous! This was not there post operation even.. so what really is the reason for it two months down the line?," Bachchan had wrote on his blog.
"I have no answer. But tomorrow there should be one as I prepare for a CT Scan, after devouring a large bottle or bottles of that yellow fluid, that shall line the internal organs so the scan can pick up any region that could be infected or being the cause for the pain," he said last night.
Bachchan, who has a history of abdominal ailments, was operated on February 11 at the Seven Hills hospital.  However, he was surprised to see the media lined outside his house early morning.
"Oh dear..up at 6 am to go for dub of a Bhojpuri film for my make up man..and..a fleet of media vans and tv camera chasing me? Why ? Security asks media crew reason for chase, they refer to my Twitter on CT Scan..goodness!" Bachchan wrote on Twitter.
"Dearest tv media and vans outside my home, please do not stress and work so hard. Its nothing, just another visit to my doctor !!," he said.
Big B quoted his father the late Hindi poet Harivanshrai Bachchan's poem on Twitter: "Agar iccha ko lo jeet, Pa sakte ho Dukhon se nistaar, Pa sakte ho Nirvaan puneet; Ant me sabka hai yah saar, Jeevan dukh-hi-dukh ka hai vistaar,  Dukh ka ichha hai aadhar; Jo kuch hai hamare bhitar-bahar, Deekhta-sa Dukhkar-sukhkar, Wo hai hamare karmon ke phal. Karm hai Atal Jagat hai chalayman, Bahti nadi ke samaan, paar kar jaao ise tairkar, Is par bana nahin sakte ghar."(Win over your will, you can overcome grief and get sacred Nirvaana, This is the substance of life, Life is an extension of grief, Desire is the basis of grief; Whatever we see inside-outside may like joyful or sad, It's only the result of Karma, Karma is unchangeable; The wheel of Universe moves, like a river you have to cross, You can't build house on a river.)