Bigg Boss 8 Halla Bol Day 18: Sambhavna and Dimpy's major showdown cross the line of decency (see pics)
New Delhi: As the Bigg Boss 8 is coming to end, the housemates are bringing out the worst of their personality.In the morning Sambhavna and Karishma discussed how Pritam has been playing a double game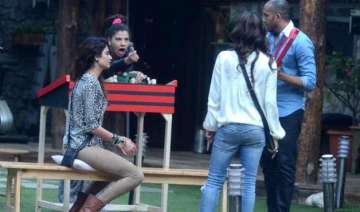 India TV Entertainment Desk
January 28, 2015 9:39 IST
New Delhi: As the Bigg Boss 8 is coming to end, the housemates are bringing out the worst of their personality.
In the morning Sambhavna and Karishma discussed how Pritam has been playing a double game in the name of Gautam and he's trying to be too safe.
Bigg Boss sent in a task as a last chance to win Rs 25 lacs, task was called Aakhri Seedhi.
Champions had to steal steps for their ladder from the opposite team and vice versa and Ali was the first one to steal from Champions, right under the noses of Gautam and Dimpy.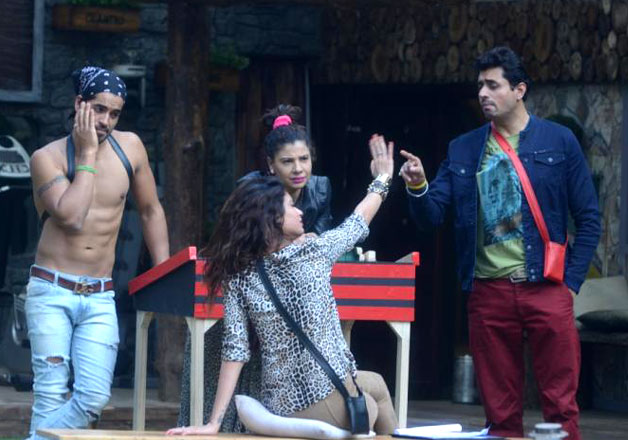 Karishma blamed Pritam for playing dirty politics and both started to argue over who has been more rude and negative in tasks throughout the season.
Karishma revealed how Pritam had been talking negative about Gautam behind his back and was keeping a fake friendship with him for the sake of game.
ALSO READ: Bigg Boss 8 Hall Bol Day 17: Upen-Karishma's romantic date ended on a teary note (see pics)
The fight took an ugly turn when Dimpy dragged Sambhavna into the matter and claimed that she always talked about everyone's personal life. Both had a rowdy argument and others had to intervene.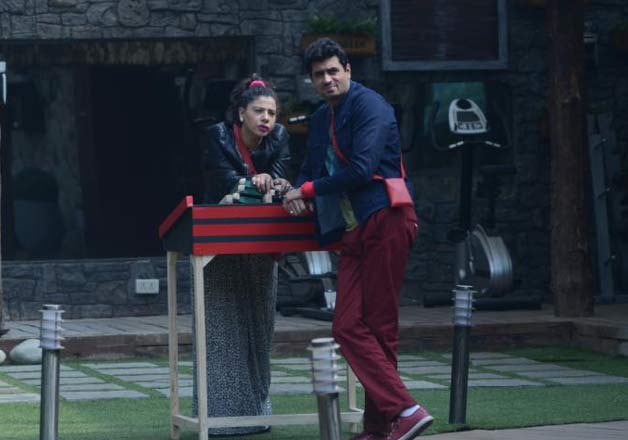 Ali distracted Dimpy in the fight and stole another step. Gautam got upset over Dimpy's carelessness and tried to make her understand that she needs to focus.
Soon, Dimpy and Sambhavna got caught in the fire as they resumed fighting from where they had left earlier.
As Dimpy sat on the ladders to keep them secure from the hold of challengers, Sambhavna stood near the podium in a mood to lock horns with her arch rival.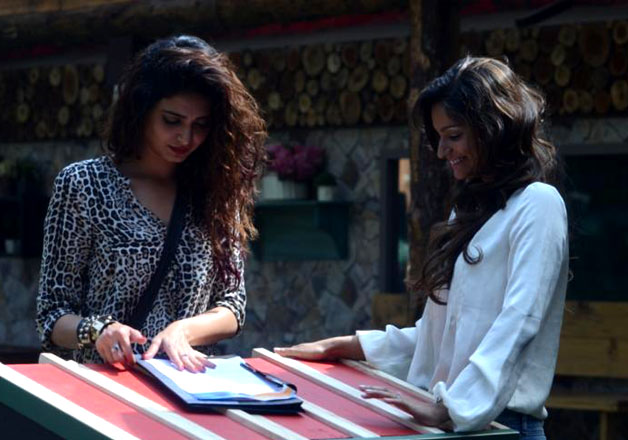 Dimpy told Sambhavna that she is not Bigg Boss Season 2's Payal Rohatgi who she could blast so easily.
Dimpy went on saying that she has it in her to give back to nasty people in the same coin unlike Sambhavna who only knows how to get backlashed from people.
Sambhavna played her card by misinterpreting a certain word used by Dimpy in a different context. She shared this with Karishma how Dimpy used an obscene word in her argument and then by evening made an issue out of it to attack Dimpy.
ALSO READ: Bigg Boss Halla Bol: Is Mehek Chahal in love with Gautam Gulati?
Sambhavna was hurt by some unfavorable words used by Dimpy for her and requested Bigg Boss to talk in confession room. When throughout the day she got no response, she packed her bags and decided to leave.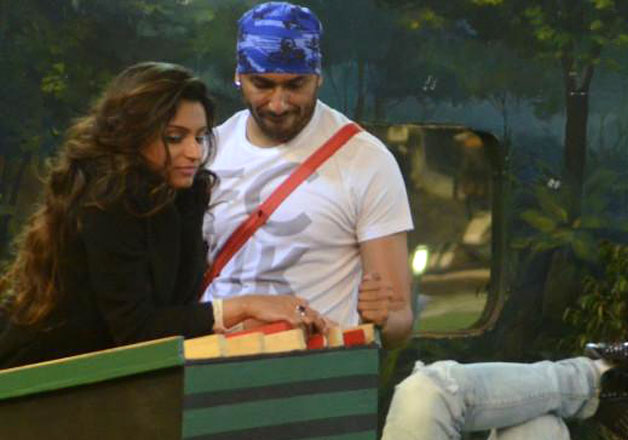 Later in the night, Ali tried to crack a deal with Dimpy to exchange a few steps in between them and while Dimpy agreed she had no idea that she was being totally ambushed by Pritam and Ali. After Dimpy's requests Ali to back off from the deal and return her team's steps.
On the other hand, Pritam pointed out to Ali that Gautam, being in the Champions team, is busy in solving Sambhavna's issue instead of using his time to win the task for his team.
Pritam added that Gautam is not a team player and has a tendency to remain cut off from the team. He also asked Ali to play carefully as their team is about to win.