Bipasha May Play Bhanwari In Bollywood Film
Mumbai, Jan 8: Bollywood producer Mahendra Dhariwal, who made films like Maa Tujjhe Salaam (2002) and Nelle Pe Dehlla (2007) is planning a film on Rajasthan nurse Bhanwari Devi, and has contacted Bipasha Basu and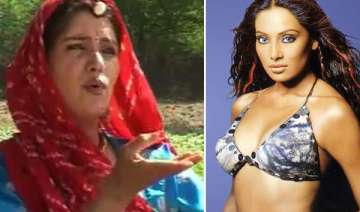 PTI
January 08, 2012 13:46 IST
Mumbai, Jan 8: Bollywood producer Mahendra Dhariwal, who made films like Maa Tujjhe Salaam (2002) and Nelle Pe Dehlla (2007) is planning a film on Rajasthan nurse Bhanwari Devi, and has contacted Bipasha Basu and Mallika Sherawat to play the lead role, reports HT City.

 "We're also discussing the project with Mallika Sherawat, apart from Bipasha. They've agreed in principle but nothing is confirmed right now," Dhariwal says.

Dhariwal has already registered a title for his film -Ajab Bhanwari ki Gazab Kahani -seemingly along the lines of Ranbir Kapoor-Katrina Kaif starrer Ajab Prem Ki Gazab Kahani (2009).

'I need an actor who can shoot continuously in a start-to-finish schedule towards the end of February. We will see how the dates work out . That's why no paper work has been done yet."

Bipasha, who has already worked with Dhariwal in Nehlle Pe Dehlla, doesn't deny.

"Any announcement will happen in a proper manner. Right now, there is nothing. What has been confirmed after Players is Jodi Breakers and Singularity, followed by Raaz 3  that goes on floors in some time."

Mallika, who is busy in shooting for Sanjay Khanduri's Kismat Love Paisa Dilli was not available for comment.

But her associates feigned ignorance about any such affair.

Dhariwal will direst as well as produce the film.

He says he's been researching the subject for a long time.

"But since the case is coming to a close, I feel it's the right time to go ahead with it. And within a week's time, I'm sure we will have more clarity."

Dhariwal says, the film will have lots of music and songs.

"Since Bhanwari Devi was involved with a lot of Rajasthani music albums, we will have local music and folk songs."

Dhariwal says he plans to approach Divya Dutta, Anupam Kher and Naseeruddin Shah for the film.