Parineeti, Alia, Nargis reveal their Holi plans (see pics)
Mumbai: Shabana Azmi, Manoj Bajpayee and Rajkummar Rao are set to join the Holi revelries Monday, but the new breed of actors - Parineeti Chopra, Alia Bhatt and Nargis Fakhri - say this year work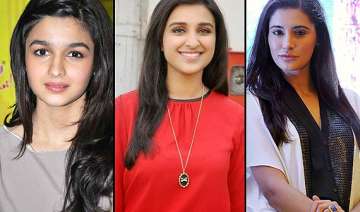 PTI
March 16, 2014 15:05 IST
Mumbai
: Shabana Azmi, Manoj Bajpayee and Rajkummar Rao are set to join the Holi revelries Monday, but the new breed of actors - Parineeti Chopra, Alia Bhatt and Nargis Fakhri - say this year work will keep them so busy they won't have time to indulge in the festival of colours.
Here is what they have to say:
Farhan Akhtar: Holi for me is always family time.
Ayushmann Khurrana: I am not a big Holi fan. It's a rowdy Holi in my part of the country. This time for Holi I just want to chill with my family.