Calendar Girls Trailer: Slideshow of fashion, scandals, lust & love
New Delhi: Madhur Bhandarkar is back with yet another movie which takes on the dark side of the glamour world. After Page 3, Fashion and Heroine, Bhandarkar's Calendar Girls is another venture of his where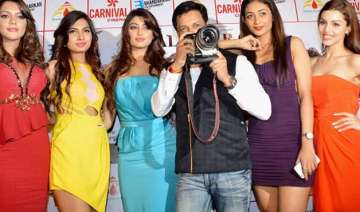 India TV News Desk
August 18, 2015 23:09 IST
New Delhi: Madhur Bhandarkar is back with yet another movie which takes on the dark side of the glamour world. After Page 3, Fashion and Heroine, Bhandarkar's Calendar Girls is another venture of his where he apparently follows the saying, 'All that glitters is not gold.'

The movie marks the debut of Akanksha Puri, Ruhi Singh, Avani Modi, Satapura Pyne and Kyra Dutt and also features Rohit Roy and Suhel Seth.

Calendar Girls, the title itself suffices that it is a cliché Bhandarkar movie. As evident from the two-minute-28 second trailer, the movie is about the ups and downs in the lives of models which leave them tormented.
 
It seems the national award winning director has played with his best elements in this movie and has given equal attention to every girl's story. The flick will see a lot of betrayal, scandals, fashion, skin-show, tragedy, seduction, success, failure, lust and love.
Produced by Mangalmurti films and Bhandarkar films, the movie will release on September 25. After working with prominent names like Priyanka Chopra, Konkana Sensharma, Kangana Ranaut and Kareena Kapoor it was a brave attempt on Bhandarkar's part to go with the newbies. Though, it would be interesting to see if the newcomers will be able to deliver powerful performances like the aforementioned actresses.
You can watch the trailer here!