Case Against SRK For Smoking In Public
Jaipur, Apr 11: Anand Singh Rathore, director of Jaipur Cricket Academy has filed a complaint in the court of additional chief judicial magistrate here seeking action against Bollywood superstar and Kolkata Knight Riders owner Shah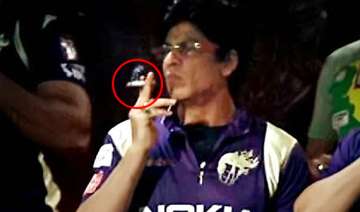 PTI
April 11, 2012 14:07 IST
Jaipur, Apr 11:
Anand Singh Rathore, director of Jaipur Cricket Academy has filed a complaint in the court of additional chief judicial magistrate here seeking action against Bollywood superstar and Kolkata Knight Riders owner Shah Rukh Khan for smoking in public.
The ACJM has fixed April 12 as the date for next hearing.
SRK was seen smoking in Jaipur's Sawai Man Singh Stadium during the IPL match against Rajasthan Royals on Sunday night.
"It's a lapse on the part of police and administration as they allowed Shah Rukh to enter the stadium with cigarettes", says Rathore.
"Besides seeking the courts intervention, another question I have raised is how a cigarette was allowed inside the stadium. Logon ki to paani ki bottle tak rakh lete hain, but SRK ko cigratte le jaane di", adds the complainant.
Rathore has also handed over the evidence of SRK smoking to the court along with the application.
"I have given them a CD apart from some photographs wherein the actor is clearly seen smoking", says Rathore.
A senior officer said,The reports will be submitted to BCCI, as well as other departments for appropriate action.
Lawyer Nem Singh Rathore, who filed the complaint on behalf of Anand, said, "The actor was broadcast live on the TV channel while smoking.
"It's also negligence on the  part of police, as they did not confiscate the cigarette packet, allowing him to carry it into the stadium.", says the lawyer.