Dolly Ki Dolly movie review: Love her or hate her, but you can't ignore Sonam
Dolly Ki Doli is simply 'short and sweet.' With the story having nothing really novel, the direction and the ensemble of a brilliant cast wins here.Film: Dolly Ki Doli; Stars: Sonam Kapoor, Rajkumar Rao, Varun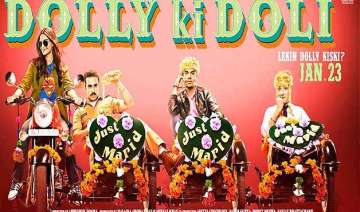 India TV News Desk
January 23, 2015 14:12 IST
Dolly Ki Doli is simply 'short and sweet.' With the story having nothing really novel, the direction and the ensemble of a brilliant cast wins here.
Film: Dolly Ki Doli; Stars: Sonam Kapoor, Rajkumar Rao, Varun Sharma, Pulkit Samrat; Director: Abhishek Dogra; Music Director: Sajid-Wajid
Dolly Ki Doli tells the story of a girl Dolly (Sonam Kapoor) whose failed relationship turns her con-bride. Popularly known as 'Looteri Dulhan,' Dolly dupes her grooms on the wedding night and sweep the house away with all the valuables along with her gang. How Dolly makes her prospective targets fall for her constitutes the entire humour in the film. However, Dolly's tryst with two of her grooms – Sonu (Rajkumar Rao) and Manoj Singh (Varun Sharma) leads her to face a real stunt in her life.
Will Dolly be able to play hide and seek with the law and above that with a stern Police man like Robin Singh (Pulkit Samrat), comprises the rest of the scene in Dolly Ki Doli.
And before the film gets thumbs up or down, Dolly Ki Doli's climax makes for an outstanding appeal for the film. Something that would flip your expectations, the climax by Salim Khan would alone stand as a 'paisa vasool' factor for you.
The plot of the film tries to find humour in tiny things and despite evident loop holes in the presentation, it works. One would feel an urge to find answers of a question like how come no one takes a single picture of a beautiful bride like Dolly in any of her lavish weddings. No videography and photography in any of the grand weddings that Dolly does, Dolly marries myriads from almost every corner of the nation but never gets laid. The story definitely directs to identify many logical questions but as and when you see a gorgeous Sonam Kapoor grinning widely and looking more-than-stunning in each of her bridal avatar, you tend to ignore all the 'miss-fits' here.
And to some extent, the direction by debutant Abhishek Dogra has made it possible to fix a loose storyline to give at least a thoroughly entertaining film.
She is fun, shy, interesting, extrovert, calm still enigmatic and more than anything else, she is lovable in all her disguise. Sonam Kapoor's on screen presence takes your heart away without even letting you know. And despite the fact that her acting looks just an extension of her 'Khoobsurat' mischievous character, the actress makes you go gaga over both her boldness and introvert sides in the film.
Such is the instinct of Sonam Kapoor in the film that each of her beautifully styled avatars rebels with you if you start pointing at her acting flaws. Though, Sonam definitely proves to have come much ahead of her 'not at all acting' days, the actress appears throwing her 'show-shah' deliberately on you.
Apart from Pulkit Samrat who is no less than any 'I-wanna-be-Salman-Khan' dude, Rajkumar Rao, Varun Sharma and for a rare surprise Archana Puran Singh are the real performers responsible for marking this film as an 'entertainer.'
Rajkumar Rao, though seems oozing out of his serious characters, serves for a wonderfully entertaining presence in the film. His 'Haryanvi accent' is nothing but too-original-to-make-you-engrossed in the film and extract every bit of fun when he comes on screen.
If Varun Sharma doesn't seem out of his 'Chucha' character yet, it is for a good reason in 'Dolly Ki Doli.' The man who is playing a Delhi boy is high on hormones and less on grey matter in the film, and it takes no effort to laugh and enjoy every inch of the silliness he incorporates in the film.
Quite relatively satisfying dialogues served with acting-that-looks-original, Dolly Ki Doli satiates your thrust of watching something that we can deem as an 'effortless fiction.'  The one liners delivered by Sonu's father played by Rajesh Sharma and Manoj's loud mouth Punjabi mother played by Archana Puran Singh looks so logically hilarious that you would eventually like to extend your sympathies with them.
Other characters played by Manoj Joshi, Mohammed Zeeshan Ayyub and Gulfam Khan too paint a great fun in the already brightly coloured canvas.
One of the most magnificent moments of the film has one when you see breathtakingly handsome Saif Ali Khan in the film. Please take 'royalty' as face value for the actor in its literal sense in Dolly Ki Doli. Nothing would entice you more than his royal presence here.
Overall, Dolly Ki Doli doesn't promise you a 'logical' cinematic experience but surely an 'engaging' one. Sonam Kapoor is lovely and leaves you craving for more of her vivacious charm in these 1:40 hours of sit-back-entertainment.
P.S. You can watch it alone, with a group, with your partner, family, and enjoy the similar ratio of a typical Bollywood entertainment flick.