Slapgate Controversy: Govinda offers Rs 5 Lakh,unconditional apology to fan;Twitter reacts
New Delhi: Eight years back When Bollywood star Govinda had slapped Santosh Bateshwar Ray during the shoot of his would be flop film 'Money Hai To Honey Hai', little did the actor imagine that this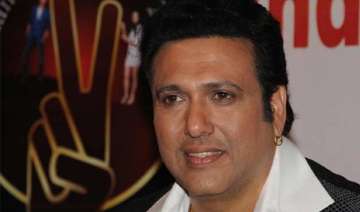 India TV Entertainment Desk
February 10, 2016 12:29 IST
New Delhi: Eight years back When Bollywood star Govinda had slapped Santosh Bateshwar Ray during the shoot of his would be flop film 'Money Hai To Honey Hai', little did the actor imagine that this slap would cost him incessant court hearings and media trials.
The 'Hero No. 1' actor on Tuesday offered an unconditional apology and Rs 5 lakhs to Santosh Bateshwar Ray, for his unheroic act.
The offer was made in the Supreme Court, which, in the past, has faulted Govinda for failing to act with the grace and dignity of a public personality - the performer was a Lok Sabha MP at the time.
However, the Supreme Court insisted the actor must personally apologise to the complainant who wants to prosecute him for criminal intimidation and assault that may land the star in jail for two years.
On Tuesday, the judges asked Govinda to meet Rai within two weeks and negotiate a settlement. After the hearing, Govinda declared, "I have immense love and respect for my fans who also wanted me to apologise."
"There is no need for him to come here. Let him go and meet the complainant and thrash it out," the bench said, giving the star a final opportunity. It gave him two weeks for a conciliation, failing which the court shall hear Ray's appeal on merits.
Complainant Santosh Bateshwar Ray's advocate Jatin Zaveri alleged the star had not made any effort to meet his client. "He is trying to mediate either through his lawyer or personal secretary," he told the bench.
Earlier, a meeting was finally fixed on February 6 but the star had failed to turn up. His secretary forwarded the apology on behalf of Govinda, according to Zaveri.
Rai's case was initially quashed by the Bombay High Court, but the Supreme Court took up the case last year. Govinda's lawyers had contended that a video clip of the slap had been doctored, but the court rejected this claim.
The Supreme Court had previously faulted Govinda for failing to act with grace and dignity.
As expected, Govinda's apology and his compensation had Social Media laughing