Watch: Rapper Hard Kaur loudly abused Sunny Leone at public event
New Delhi: Hard Kaur is famous for her hard hitting rap songs, however, this time the lady has made it to the news after abusing actress Sunny Leone.The incident happened at an event recently when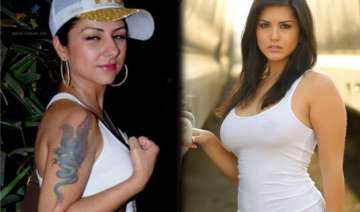 India TV Entertainment Desk
February 09, 2016 14:39 IST
New Delhi: Hard Kaur is famous for her hard hitting rap songs, however, this time the lady has made it to the news after abusing actress Sunny Leone.
The incident happened at an event recently when she was posing for the cameras. She wasn't asked any questions and neither there was mention of Sunny Leone but out of the blue Hard Kaur come up with this.
"Agar main secretary hoti toh kitni sexy lagti… jaise c*****a Sunny Leone. (If I were a secretary, I would look so sexy like c*****a Sunny Leone.)"
Her abusive statement in public about another actress is indeed shocking and has left our jaws dropped. All we can sense is that its Sunny Leone's past profession (adult movie star) which is not going down well with some members of the Bollywood clan.
Few days back, Sunny Leone was all over the Internet for the way she carried herself in the demeaning interview. The whole of Bollywood came in her support and called her a rock star. Even Mr. Perfectionist Aamir Khan praised her and expressed desire to work with her.
On Monday, when both Aamir and Sunny were in Delhi, he invited Sunny along with her husband Daniel Weber for a special lunch.
Sunny might be still in hangover of the meeting with her favourite superstar and it is very unlikely that she would pay heed to Hard Kaur's abuses.
Video Courtesy: SPOTBOYE