Bachchan sahab was the coolest and youngest one in our crew: Honey Singh (see pics)
Mumbai, Rapper Yo Yo Honey Singh seems to be smitten by the greatest star of Bollywood Amitabh Bachchan. As this young rapper can't stop raving about Big B since the day he has shot a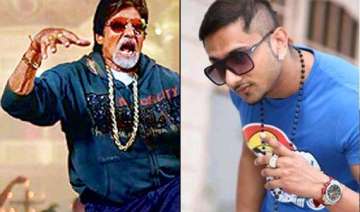 PTI
March 13, 2014 11:23 IST
Mumbai
, Rapper Yo Yo Honey Singh seems to be smitten by the greatest star of Bollywood Amitabh Bachchan. As this young rapper can't stop raving about Big B since the day he has shot a song with him.
Honey is awed by the energy of 71-year-old thespian Amitabh Bachchan. The duo shot a song together, and Honey Singh can't stop raving about the Big B. 
"It's like being in a room filled with kinetic energy. Shooting with the Big B made me feel so old and inadequate. Not for a minute does he remind you of who he is. In fact, I felt I was with someone much younger than me," said the rapper, who turns 31 this month. 
"Bachchan sahab was the coolest and youngest one on our crew. Every time he came on the sets, the energy level went up by many notches. When he left, we actually felt the energy level drop. He has the energy level of a 22-year-old," he added.