I Am Very Selfish And Ambitious: Ranbir
Three films old Ranbir Kapoor likes to describe himself as "selfish and ambitious" but the actor says that despite his 75 year-old Kapoor legacy in Bollywood, he feels like "a kid in Disney Land".  The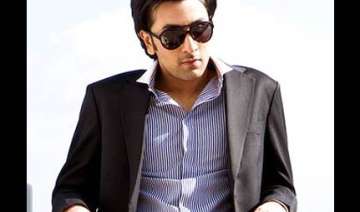 PTI
November 02, 2009 20:50 IST
Three films old Ranbir Kapoor likes to describe himself as "selfish and ambitious" but the actor says that despite his 75 year-old Kapoor legacy in Bollywood, he feels like "a kid in Disney Land". 
The 27-year-old actor says he has a long way to go to realise his dreams and he does not want to limit himself to acting alone. Like his grandfather, Raj Kapoor, the young star says he wants to try every aspect of film making at some point in his life. 
"I am very selfish and ambitious. What I have today is not even 10 per cent of what I want to achieve. I am extremely passionate about films and every success that I meet is never enough for me because I have lot of dreams," Ranbir said. 
The actor, who debuted in Bollywood with Sanjay Leela Bhansali's 'Saawariya' in 2007, says, "It may look like that I have done only three films but I have been in the industry since the day I was born. I waited 24 years to become an actor and I am really happy to be where I am today. 
"It feels like I am a kid in a Disney Land. I get to play so many characters, I have my own trailer van, people ask for my autograph," says the actor. 
Ranbir is happy with the success of his third film 'Wake Up Sid', but says he has already moved on to his next. 
"It is really heartwarming to see the kind of appreciation the film and I as an actor got but I am now on to another film. I get the film out of my system the day it releases. For me, it is more about the journey than the destination. I love the whole film making process," he adds. 
Ranbir will next be seen in Rajkumar Santoshi's 'Ajab Prem Ki Gajab Kahani'. Releasing on November 6, the film is Santoshi's return to comedy after 'Andaz Apna Apna' in 1994.
The actor plays happy-go-lucky Prem Shankar Sharma, who falls in love with a Christian girl, played by Katrina Kaif in the movie. 
"It is my first commercial entertainer and my first attempt at comedy. Compared to my other films it has larger audience so I am more nervous because there are more people to judge me now," he says. 
Ranbir, who comes from the famous Kapoor family, which boasts of names like Prithviraj Kapoor, Raj Kapoor and Shashi Kapoor among others, says that he takes his legacy "very seriously" and is not afraid of being compared. 
"My family has been contributing to the Indian cinema for past 75 years and I think a lot of their good will has rubbed on me. But it is huge responsibility, a lineage has been given to me to carry forward to. I never take it for granted. It has kept me grounded," Ranbir says. 
Ask him about the constant comparisons that he draws because of his background and the actor says, "Lot of people think that things have been really easy for me because I am star's son and come from certain family but I disagree with that notion. People do compare you, people judge you harder. 
"But it has never scared me or has shaken the confidence in me because for me it is about working everyday and doing good work," he says. 
Ranbir has his late full with the back to back films. He will be seen in 'Rocket Singh: Salesman of the Year', Prakash Jha's 'Rajneeti' and Siddharth Anand's 'Anjaana Anjaani'.