I Would Like To See Saifeena Together, Says Soha
Bollywood actor Soha Ali Khan on Thursday said she would like to see her brother and actors Saif Ali Khan and Kareena Kapoor together. "Saif and Kareena look good together in reel as well as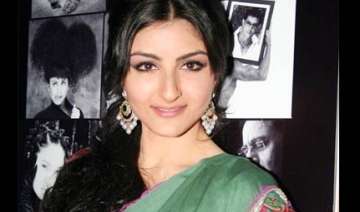 PTI
November 06, 2009 17:09 IST
Bollywood actor Soha Ali Khan on Thursday said she would like to see her brother and actors Saif Ali Khan and Kareena Kapoor together.
"Saif and Kareena look good together in reel as well as real lives," Soha told PTI in Indore. "I wish them a very happy life and want to see them happy," she said.
"They are happy and this happiness reflects on screen too," said the daughter of former Indian cricketer Mansoor Ali Khan Pataudi and actress Sharmila Tagore.
Avoiding a direct reply on her marriage plans, the 31-year-old actor said her elder siblings Saif and Saba are yet to get married.
"It would not look good if I tie the knot first," she said in a lighter vein adding her mother is thinking about it.
On the kissing scene in her forthcoming movie 'Tum Mile' with Emraan Hashmi, popularly know as serial kisser in Bollywood, Soha said the issue has been blown out of proportion by the media.
"I was very nervous when the scene was being shot," she said.
To a question on her five-year-long journey in Bollywood, Soha said she found the film industry to be a place for a lot of creative work and not a rat race, as perceived by some. "I take up the characters that gel with my sensibility," she added. PTI