Joining Samajwadi Party Was A Big Mistake, Says Sanjay Dutt
Mumbai, Jan 17 : Bollywood actor Sanjay Dutt, who appears as a super-villain in Agnipath, says joining the Samajwadi Party was a big mistake in his life. Sanjay may have resigned from Samajwadi party in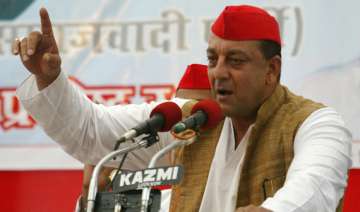 PTI
January 17, 2012 14:36 IST
Mumbai, Jan 17 : Bollywood actor Sanjay Dutt, who appears as a super-villain in Agnipath, says joining the Samajwadi Party was a big mistake in his life.

Sanjay may have resigned from Samajwadi party in 2010, but he is still sore about the experience. 

In an interview to Mumbai Mirror, the actor confessed, "Politics is totally over for me. I have realised that politics meri jagah nahi hai. I cannot lecture or spin lies."

Describing  his campaigning for Samajwadi party as a mistake, Dutt, who is preparing to move away from the family home soon, expressed his regret for not having stayed loyal to the party of his father's choice.

"My entire family has been with the Congress right from the time of Pandit Jawaharlal Nehru. Congress is in our blood and as a loyalist, I am always there for Congress. Samajwadi was a mistake and I regret it," he says emphatically.

But, Dutt is also quick to add that his decision to join Samajwadi party was not influenced by Amar Singh.

"In fact, he discouraged me. You see, he is not just a politician, but also a brother. But then things happened and those three months in politics were a big lesson for me."

Dutt said, "I think the best thing about my short-lived political career was that I saw the interiors of Bihar and UP.
That is the real India and being an Indian, it was really sad to see our own people living in such dismal conditions. It was a real eye-opener."

Dutt says he had been off alcohol for more than 15 days.

When asked about his buying the rights of South film Badri for Ajay Devgn, Dutt said about the one-crore deal, "Yes, it is true. We have given a token amount of Rs 40 lakh and the rest of the details are being worked out."