Juhi Chawala takes credit for Karishma Kapoor's success
It is very rare that cheerful actress Juhi Chawala comes up with such a big statement. Few days back Juhi claimed that Shah Rukh Khan, Aamir Khan and Salman Khan, all are superstars because of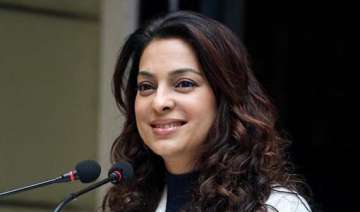 India TV Entertainment Desk
March 03, 2014 19:27 IST
It is very rare that cheerful actress Juhi Chawala comes up with such a big statement.
Few days back Juhi claimed that Shah Rukh Khan, Aamir Khan and Salman Khan, all are superstars because of her. Next in her list is Karisma Kapoor.  
Recalling her past, she claimed of taking some foolish decisions of not doing couple of films which later became blockbuster.
In past she rejected 'Raja Hinsustani', 'Dil Toh Pagal Hai', which later went to Karishma Kapoor's bucket.
According to a report Juhi takes credit for Karisma Kapoor's success and the fact that the 'Raja Hindustani' actress is unaware about.