Telugu actor K Vijay dies in Nepal earthquake
New Delhi: K Vijay, a 25-year-old Telugu film actor died in the Nepal earthquake. K Vijay was in Nepal along with the unit of Telugu movie 'Etakaram.com' for shooting.Music director Kishan said in Hyderabad that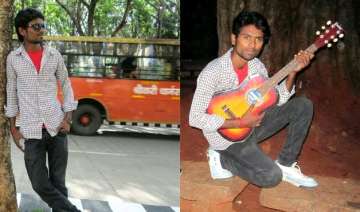 India TV Entertainment Desk
April 27, 2015 17:42 IST
New Delhi: K Vijay, a 25-year-old Telugu film actor died in the Nepal earthquake. K Vijay was in Nepal along with the unit of Telugu movie 'Etakaram.com' for shooting.
Music director Kishan said in Hyderabad that he received information on Monday that K Vijay died when they were returning from shooting. The car in which the group was travelling overturned.
Mr Vijay, a character actor and a choreographer, died on the spot while three others with him got injured.
Mr Vijay hails from Bapatla in Guntur district of Andhra Pradesh.
The 20-member unit was initially thought to be safe. Mr Kishan said that the team had left Hyderabad on April 15 for Gorakhpur en route to Nepal. The crew of "Yetakaram.com" had reportedly been shooting in Kathmandu for the last 10 days. They were said to be filming a song sequence when an earthquake with a magnitude of 7.8 occurred at 11:26am on 25 April.
Vijay's body has been recovered and is being brought to India now. All his friends and family members are left with deep shock and are waiting for his body.