Kapil Sharma, Priyanka Chopra make fun of their 'fight' controversy on Twitter
New Delhi: It was recently reported that Comedy King Kapil Sharma lost his cool over Priyanka Chopra for being late at a recently held awards function, which was hosted by him, however PeeCee and Kapil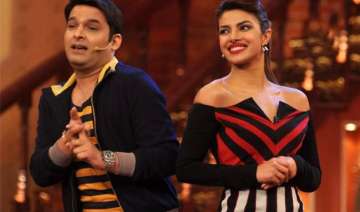 India TV Entertainment Desk
January 17, 2015 11:24 IST
New Delhi: It was recently reported that Comedy King Kapil Sharma lost his cool over Priyanka Chopra for being late at a recently held awards function, which was hosted by him, however PeeCee and Kapil mocked the reports on Twitter.
The comedian Kapil Sharma, who read in a tabloid that he had 'fought' with actress Priyanka Chopra at an awards night he hosted, tweeted: "U r very bad @priyankachopra u didnt even told me that v fought with each other on award function.. Jus saw in news n got to know .. Hahaha"
To this Priyanka promptly replied, "Haha! I don't give importance to untrue news ya Kapil! Big love always to my fav!! @KapilSharmaK9."
Sources claimed that during the show Priyanka had kept Kapil waiting for three hours. And even after her arrival she said that she was not ready. On hearing this, Kapil removed his earphones and said, "Ladies logon ka yehi problem hai, madam abhi tak tayaar nahin hain." (This is what the problem with women is. Madam (Priyanka) is not ready yet)."
As per their Twitter conversation, the reported quarrel over Priyanka's alleged lateness never happened. So yes all is well between Priyanka and Kapil.