Comedy Nights With Kapil's creative director lashes out at Krushna Abhishek and Colors
New Delhi: Comedian turned actor Kapil Sharma's much loved show did not see a quiet exit from the channel Colors. 'Comedy Nights with Kapil', which was telecast for almost two and a half years came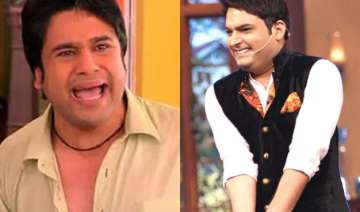 India TV Entertainment Desk
February 03, 2016 10:17 IST
New Delhi: Comedian turned actor Kapil Sharma's much loved show did not see a quiet exit from the channel Colors. 'Comedy Nights with Kapil', which was telecast for almost two and a half years came to an abrupt end two weeks ago.
After the show went off air, Krushna Abhishek who hosts the replacement show 'Comedy Nights Live', in a recent interview made tall claims that Kapil was scared of competition. While Kapil hasn't reacted on this statement by Krushna, his creative director Preeti Simoes has lashed out at the latter.
During her interaction with a leading daily, she said, "He has made such immature statements. Why will Kapil Sharma feel insecure of Krushna? It is as simple as that. Just because you want to put yourself in Kapil's category, you are drawing those comparisons."
Preeti was also miffed with the way 'Comedy Nights Bachao' has been marketing itself and painting a bad picture of Kapil. An outrageous Preeti said, "Kapil came from Comedy Circus. Comedy Circus shut down.. he never said anything. About Comedy Classes too he never said anything. Then Comedy Nights Bachao came and even though they were not number one or even in that category, they started announcing we are number one and have the highest TRPs and all that. You see they have come for strong reasons. Their prime reason should be to make people laugh. Their reason should not be to put someone down or look better or make people feel we are in the same category."
Kapil's fallout with Colors too grabbed a lot of attention and it was being cited as the primary reason why a full stop was put on the show. Colors' CEO Raj Nayak, after being num for quite a long time, said recently that he had no problems with Kapil but it was the other way round. He had also said that they titled the show, 'Comedy Nights With Kapil' so that Kapil has a sense of ownership. His words also reflected that he feels that Colors made Kapil a star.
Reacting on this, Preeti said, "You think so. He first won Laughter Challenge. The first show he did was for MH1. He won Laughter Challenge , Laughter Challenge made Kapil. He won six seasons of Comedy Circus and Comedy Circus made Kapil. It is the talent that makes one what he or she is. Nobody makes anybody."