Kapil Vs Krushna: Audiences give 'Baba Ji Ka Thullu' to Comedy Nights WITHOUT Kapil
New Delhi: After an emotional farewell to Kapil Sharma's hit show 'Comedy Nights' last week, audiences woke up to a new version of the show rechristened as 'Comedy Nights Live' with Krushna Abhishek replacing Kapil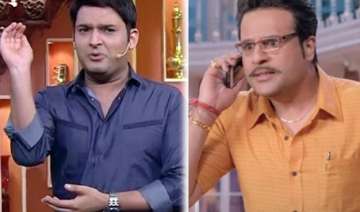 India TV Entertainment Desk
February 01, 2016 19:26 IST
New Delhi: After an emotional farewell to Kapil Sharma's hit show 'Comedy Nights' last week, audiences woke up to a new version of the show rechristened as 'Comedy Nights Live' with Krushna Abhishek replacing Kapil as its host.
While the channel 'Colors' changed the host and the name of the show, it decided to continue with the show's original theme.
While handing over of a show that Kapil had built in the last two years to a contemporary had raised many an eyebrow prior to the Comedy Nights Live went on air, it seems Kapil's exit and his replacement with Krushna on the show has not gone very well with the audiences.
The first episode, which aired on Sunday with Madhuri Dixit as the guest, has miserably failed to hit the right notes with the show's lovers.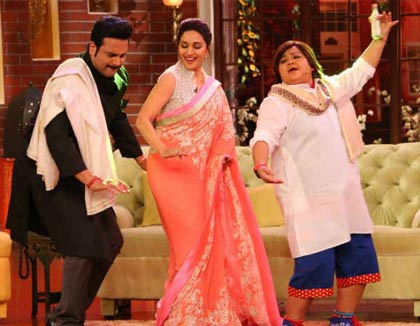 The viewers, who are used to see Kapil Sharma's splendid stand-up comedy, have outrightly rejected Krushna Abhishek's comic stint in Comedy Nights Live, with many taking to Twitter to share their anguish and disappointment on the #ComedyNightsLive hashtag.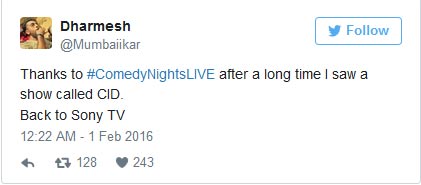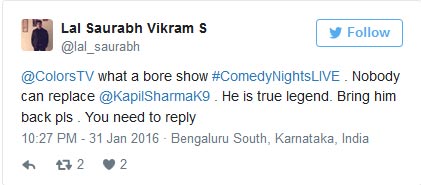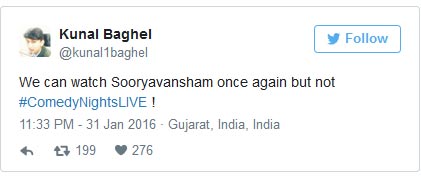 The audiences have also slammed Colors for the rude change and have demanded that Kapil Sharma be brought back.
Interestingly, Kruhsna has also been hosting 'Comedy Nights Bachao', another comedy show on Colors. He recently accused Kapil of being insecure of competition and running away from CNWK.
Though the actual reason behind CNWK being wound up has not been disclosed, reports suggest that it was a clash between Colors and Kapil Sharma that led to the fallout.
Apart from Kapil, Navjot Singh Siddhu has also been missed by the audiences. Here is a tweet from KRK.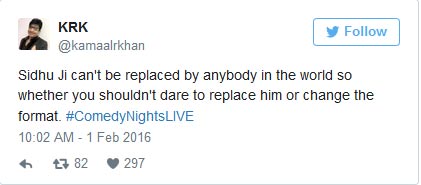 He has been replaced by singer Mika who definitely lacks the entertainment quotient that Sidhu had.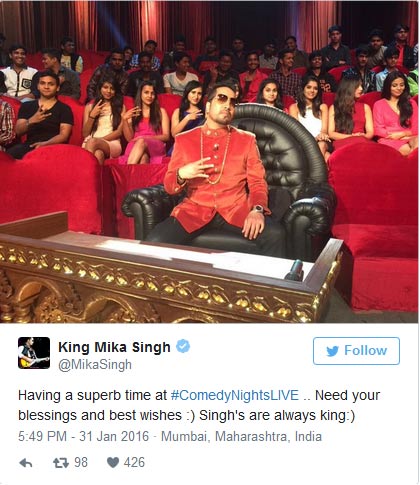 With all this bitterness in the air, it is the audiences who are at loss of their favourite show which had become a household name for bringing happiness to people for almost two years.