I am not scared of Kapil Sharma, says Krushna Abhishek on competing with CNWK
New Delhi: Ever since the popular comedy show 'Comedy Nights with Kapil' has gone off air, it has sparked a controversy.Everyone one is wondering what made host Kapil Sharma quit the show despite this being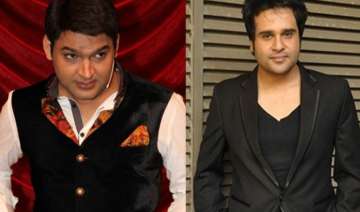 India TV Entertainment Desk
February 03, 2016 16:29 IST
New Delhi: Ever since the popular comedy show 'Comedy Nights with Kapil' has gone off air, it has sparked a controversy.
Everyone one is wondering what made host Kapil Sharma quit the show despite this being one of the most popular shows of Television.
On the other hand, reports are rife that it was because of competing with comedian Krushna Abhishek, that Kapil had ended CNWK.
Reportedly, Kapil was miffed with Colors for starting a news show 'Comedy Nights Bachao' in his competition.
Recently, Krushna was reported saying that Kapil is insecure of him and has run away from the competition.
And now the comedian's recent statement has added fuel to the fire.
While talking to a leading daily when Krushna was quizzed about his terms with Kapil, to which replied he confessed that they are not friends.
Krushna further cleared that he doesn't have a problem with Kapil and that he is neither competing with him nor is scared of him.
"I was shocked that I was asked to replace him. I am tired of explaining myself and my decision [to people]. Why would I let go of such a big show? I am a fan of Kapil, and his talent. I have learnt from him. I don't have a problem with him, and I am not competing with him; neither am I scared of him. I am an actor, while Kapil is more of a stand-up comedian, and I don't want to be a stand-up comedian like him," Krushna told a leady daily.
Interestingly, Colors CEO Raj Nayak too made put some light on this ongoing controversy stating that it was Kapil Sharma who forced them to end CNWK because of his pricey attitude.
So far, Kapil Sharma hasn't spoken anything over the debate. We wonder what the comedian-turned-actor will have to say on the allegations about him.