Kareena has not converted: Saif Ali Khan on 'love jihad'
New Delhi: Saif Ali Khan has finally broken his silence over the portrayal of his beloved wife Kareena Kapoor Khan as a victim of 'love jihad.'The actor who has recently consummated the wedding of his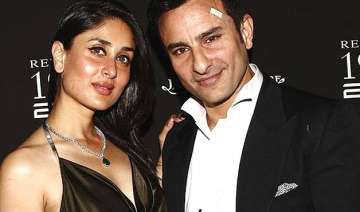 India TV Entertainment Desk
January 29, 2015 19:23 IST
New Delhi: Saif Ali Khan has finally broken his silence over the portrayal of his beloved wife Kareena Kapoor Khan as a victim of 'love jihad.'
The actor who has recently consummated the wedding of his sister Soha Ali Khan has mentioned in an interview to a leading daily that he do not support the existence of anything called 'love jihad.'
The royal lady and Bollywood actress Kareena Kapoor Khan was recently targeted by a group as a face for their 'love jihad' campaign. And after a lot of hoopla being drawn in the case, hubby Saif has come out quite supportively.
The newspaper quoted the actor as saying "People say Kareena has converted. No she has not."
Saif further went on saying that instead of defaming his wife's name in such weird campaigns, one should glorify about her contribution to cinematic world and that how much she is philanthropically active. "The country should be proud of Kareena's contribution to cinema and society. She has worked for women's rights and health," Saif added.
It seems evident from Saif's statements that he gives no heed to what so called 'society savers' think about his wife. For him, Kareena stand as a symbol of a 'modern young individual' and we too do agree to it at par!