œDid I ever say I was in a relationship with Ranbir, asks Katrina
New Delhi: Actress Katrina Kaif is making into news lately more than any of her contemporaries. Her next movie, 'Fitoor' will see a release on 12th February and she is busy promoting it rigorously. Almost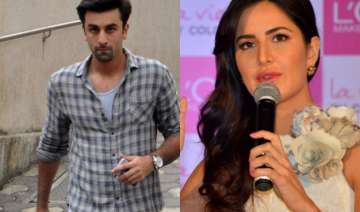 India TV Entertainment Desk
February 06, 2016 14:00 IST
New Delhi: Actress Katrina Kaif is making into news lately more than any of her contemporaries. Her next movie, 'Fitoor' will see a release on 12th February and she is busy promoting it rigorously. Almost at every event, the beauty is asked about her rumoured breakup with actor Ranbir Kapoor.
Kat has managed to dodge these questions, intelligently. On more than one occasions she has expressed that it hurts her to see people being more concerned about her personal life rather than her work.
However, recently in a rare incident, Katrina grilled the journalist who questioned about the breakup. Sitting next to her on screen mother Tabu, the journalist asked Katrina whose decision it was to call it quits, hers or Ranbir's.
At first, Katrina laughed it off by saying it's a funny question. Seconds later, she said, "Who told you I broke up? I didn't say I had a break up. I never said I am with someone," she said. She then went ahead saying that the question is invalid.
The reason for the split of Ranbir and Katrina has still not seen the light of the day. Gossipmongers suggest that it was Ranbir's lack of commitment that led to the break-up while others cite his mother Neetu Kapoor's reservations for Katrina as one of the reasons. A few days ago, Katrina and Ranbir were present at the Auto Expo in Delhi, but both of them ignored each other completely.
The two will start filming for their upcoming, 'Jagga Jasoos' in a few weeks. Let's see what happens then.