Katrina Kaif on her engagement and New Year vacation
New Delhi: A lot have been guessed and said about Katrina's recent time she spent in London and New York. Reports of her being engaged to beau Ranbir Kapoor also made rounds. Finally, she has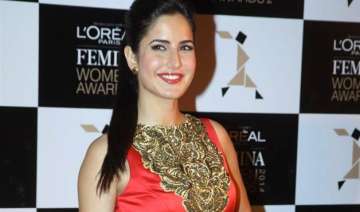 India TV Entertainment Desk
January 21, 2015 11:02 IST
New Delhi: A lot have been guessed and said about Katrina's recent time she spent in London and New York. Reports of her being engaged to beau Ranbir Kapoor also made rounds. Finally, she has spoken about the time she spent and rumours floating around.
In an interview to NDTV, the 'Bang Bang!' actress opened up on her holiday. She said, "I had a wonderful holiday, a wonderful New Year and it was very special. That's all you're getting out of me."
Katrina cleared the air surrounding her rumoured engagement with Ranbir Kapoor, saying, "There are no extra special things, if that's what you are trying to insinuate, but I had a lot of fun.".
Katrina ringed in the New Year with her family in London and she seemed quite glad. Speaking about her time with family, Katrina said, "I also got to spend some time with my family and my sisters. And that was just too much fun for words. The cutest little baby my sister has, so tiny and so cute."
Katrina who has been shooting for Anurag Basu's film 'Jagga Jasoos' opposite Ranbir Kapoor also talked about how she dresses up when she is at home. She said, "Its track pants, whether it's your usual loose track pants, may be your fitted track pants. And it's either a ganji or a t-shirt. So it's a really very simple visual. There is nothing else to it."
The rumours of Katrina-Ranbir engagement kicked off when she was seen wearing a huge ring during an event. It was reported that Katrina and Ranbir got engaged during their long holiday trip.
To put an end to engagement rumours, Katrina's spokesperson spoke to a leading daily, denying all such news. She cleared that there was no engagement and the news of Katrina flaunting her ring was baseless.