Katrina Learning Daredevil Stunts From Hollywood Action Director
Mumbai, Jan 31: Hollywood action director  Conrad Palmisano  is training Bollywood stars Katrina Kaif and Salman Khan to perform some daredevil stunts on the sets of Kabir Khan's Ek Tha Tiger in Cuba, Mumbai Mirror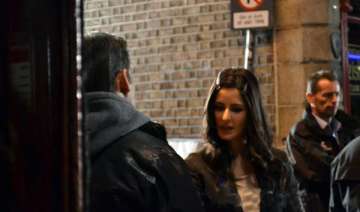 PTI
January 31, 2012 14:57 IST
Mumbai, Jan 31: Hollywood action director  Conrad Palmisano  is training Bollywood stars Katrina Kaif and Salman Khan to perform some daredevil stunts on the sets of Kabir Khan's Ek Tha Tiger in Cuba, Mumbai Mirror reported.

Katrina is being trained for the "real thing" says a member of the Cuban unit, according to the report.

Talking about her stunts, Katrina said, "It's scary. But it is also great fun. I've only done very delicate feminine roles till now.

"This is a new challenge for me. I guess that's what I'm looking for at this stage of my career."

The report quoted a unit member: "Katrina is really pushing herself to perform stunts that are generally done by male actors. She has been doing free-falls and midair fights with Salman."

Katrina in fact has been getting up really early to practice her stunts under the Cuban sun.

"She wakes up at the crack of dawn. And she gets down to serious business. She practices every sequence."

Conrad had initially suggested something 'softer' for Katrina.

"Two very different sets of stunts were planned for Katrina and Salman. But Kat was too excited and wanted to do whatever Salman was doing. Conrad finally gave in to her wishes," added the unit member.

Conrad  directed Sheila LeBeouf's stunts in Transformers. Nicolas Cage, too, is busy learning his action sequences from him for his forthcoming film Seeking Justice.