KRK stoops to lowest level, uses cheap words for insulting Alia Bhatt (view pics)
New Delhi: Now when Kamaal R Khan is back in India, he is back to his favourite leisure activity of blatantly insulting Bollywood celebs. The self proclaimed film critic this time around has picked up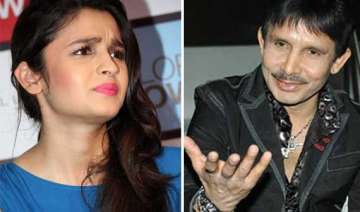 India TV Entertainment Desk
June 04, 2014 17:37 IST
New Delhi:
Now when Kamaal R Khan is back in India, he is back to his favourite leisure activity of blatantly insulting Bollywood celebs. The self proclaimed film critic this time around has picked up the 21-year Alia Bhatt to shower his unworthy praises with a massive deterioration in his class of words for the actress.
While we all know that Alia is on cloud nine after the success of 'Highway' and '2 States'. Alongwith it she is slowly and gradually stealing away the title of 'serial kisser' from his cousin Emraan Hashmi, which is happy news for her family, fans and gossip mongers. But the 'Deshdrohi' actor as expected had his own way of admiring Alia, which we think has turned rather insulting.
The former Bigg Boss contestant took to the twitter and used defamatory and mostly cheap words for the actress whom he feels is making her family proud by just getting intimate with her co-stars.
Read out the following tweets by the controversial actor-