Kumkum Bhagya: Sarla slaps Suresh in New Year party
Mumbai: In the TV show "Kumkum Bhagya", Abhi has thrown a grand New Year party for his family and close friends at his home and Pragya's friend Suresh is also invited in the party.In the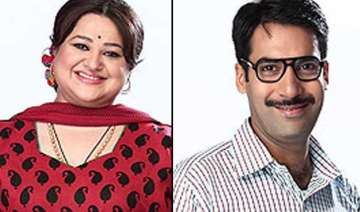 IANS
January 05, 2015 19:54 IST
Mumbai: In the TV show "Kumkum Bhagya", Abhi has thrown a grand New Year party for his family and close friends at his home and Pragya's friend Suresh is also invited in the party.
In the party everything was going well but just when Suresh entered in the party everything went wrong. Someone insists him to consume alcohol and provokes him to confess his love for Bulbul.
What will happen next? Will Bullbul marry Suresh instead of Purab? Will anyone understand that Suresh is not at fault this time? All this will unfold soon. The show airs Mon-Fri at 9 pm on Zee TV.