Mallika Sherawat boasts about meeting US President Barack Obama twice
New Delhi: Mallika Sherawat might not be doing that well with her Bollywood career but the actress surely knows how to garner enough limelight. In a recent interview, when she was asked about her success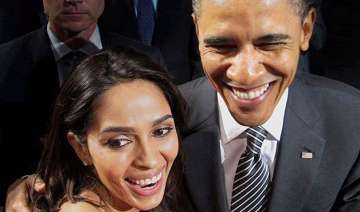 India TV Entertainment Desk
January 26, 2015 14:30 IST
New Delhi: Mallika Sherawat might not be doing that well with her Bollywood career but the actress surely knows how to garner enough limelight. In a recent interview, when she was asked about her success ratio in Bollywood, the sassy actress clearly stated that since she had met US President Barack Obama twice, she thinks she is successful.
"I take my own decisions. I sign my own cheques. That is success for me, not having 200 films in my kitty. I am the only actor who has met US President Barack Obama twice. I'm satisfied with where I am," Mallika was quoted by a leading daily.
Mallika who is nowadays on a promotion spree for her forthcoming, 'Dirty Politics' made a static comment and said that being successful depends on how one defines success.
As she went on with her bold statement, Mallika added that she might not be having 200 films in her kitty but the fact that she is still a modern, independent woman makes her more successful than anyone else.
As quoted in a media report, when dug further on her Bollywood career, Mallika said "There was a lull, and I agree that an actor is as good as his or her last film. I did not get strong, meaty roles. But that happens with everybody. What matters is that I am still being offered roles," she says.
The actress, who gained myriad of recognition for her Emraan Hashmi starrer 'Murder,' got lost later and couldn't emerge as someone very successful. Though her tactics in prestigious Cannes every year and other appearances including a reality show 'The Bachellorate India-Mere Khayalon Ki Mallika' helped her to retain her celeb status.
The last time Mallika Sherawat was seen in a Bollywood film was in the year 2012 in 'Kismat Paisa Love Dilli.'