Movie review: It's Rocking Dard-e-Disco is irritating, a fiasco
New Delhi, Nov 9: Stars- */5 starsCast: Bappi Lahiri, Akshay Kapoor, Rituparna Sengupta, Sneha Ullal, Aryeman Ramsay, Sharat Saxena, Asrani, Shakti Kapoor, Razzak Khan, Upasana Singh, Arun BakshiDirector: Ashok TyagiProducer: Dhumketu PunatarWriter/s: Razzaq Shaikh, Aaryan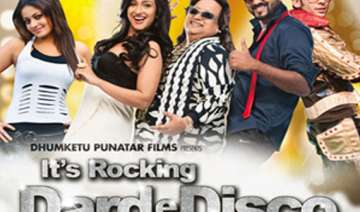 India TV News Desk
November 09, 2012 11:59 IST
New Delhi, Nov 9:
Stars- */5 stars
Cast: Bappi Lahiri, Akshay Kapoor, Rituparna Sengupta, Sneha Ullal, Aryeman Ramsay, Sharat Saxena, Asrani, Shakti Kapoor, Razzak Khan, Upasana Singh, Arun Bakshi
Director: Ashok Tyagi
Producer: Dhumketu Punatar
Writer/s: Razzaq Shaikh, Aaryan Singh, Rafiq Khan
Music Director: Bappi Lahiri, Bappa Lahiri
Comedy flicks in Bollywood have raised the bar of humour with films like  Vicky Donor, Gangs of Wasseypur, Bol Bachchan, and not to forget last week's release Luv Shuv tey Chicken Khurana.
These flicks have added some sense to tickle your bone. The audience in no way can tolerate nonsense in flicks and is mature enough to find flaws in them.
Trying to add to the list, Ashok Tyagi's "It's Rocking Dar-de-Disco" could have a better title say, "It's irritating Darde Fiasco".