Movie review: Son Of Sardar, jokes fall flat, may cause headache
New delhi, Nov 13: Rating-**Cast: Ajay Devgn, Sonakshi Sinha, Sanjay Dutt, Juhi Chawla, Mukul Dev and Vindu Dara SinghDirector: Ashwani DheerMusic Director: Sajid Ali , Wajid Ali , Himesh Reshammiya , Sandeep ChowtaForget it's competition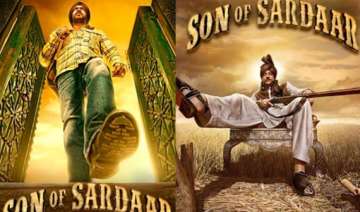 India TV News Desk
November 13, 2012 8:18 IST
New delhi, Nov 13:
Rating-**
Cast: Ajay Devgn, Sonakshi Sinha, Sanjay Dutt, Juhi Chawla, Mukul Dev and Vindu Dara Singh
Director: Ashwani Dheer
Music Director: Sajid Ali , Wajid Ali , Himesh Reshammiya , Sandeep Chowta
Forget it's competition with Yash Chopra's swansong Jab Tak Hai Jaan, Ajay Devgn's flick may cause you headache once you come out of the cineplex. Last week the flick  'Its rocking dard-e-Disco' went kaput with even Bappi Da probably regretting why stepped into an actor's shoes. And this week the much awaited 'Son of Sardar', four days before a Friday release enters the multiplexes in order to garner eyeballs this Diwali weekend.