FCAT will decide on 'Msg: The Messenger of God': Rajyavardhan Rathore
New Delhi: A decision on the screening of a film by Dera Saccha Sauda chief Gurmeet Ram Rahim Singh which has failed to get a go-ahead from the censor board will be taken by the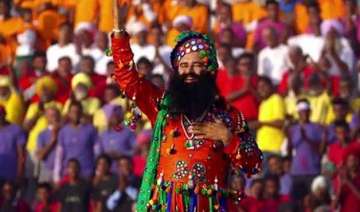 PTI
January 15, 2015 13:01 IST
New Delhi: A decision on the screening of a film by Dera Saccha Sauda chief Gurmeet Ram Rahim Singh which has failed to get a go-ahead from the censor board will be taken by the Film Certification Appellate Tribunal (FCAT), the government today said.
"Well you know the process... in the first screening, thereafter it has gone to the reviewing committee. From the reviewing committee it has gone to the appellate...," Information and Broadcasting Rajyavardhan Rathore told reporters here.
"Messenger of God", which features Singh in the lead role as well, was slated to hit the screens on Friday. Rathore said the appellate will see the movie and accordingly take a decision whether there would be number of cuts in it or whatever is required.
"The ultimate idea is that there is freedom of expression for the person, who has made the film. As long it is keeping with the interest of the nation, interest of all the religions, the appellate will not have any problem. Let's wait for the appellate's decision to come," he said. "It has gone to the appellate. We will wait for the decision of the appellate. They, probably, might carry out some cuts, whatever, that's up to them," he added.