Bollywood in shock over Mumbai gangrape case (read tweets)
New Delhi: Bollywood celebrities like Sonam Kapoor, Farhan Akhtar, Anupam Kher, Bipasha Basu among others took on the social networking sites to express their anguish over yet another brutal gangrape of a 23-year old girl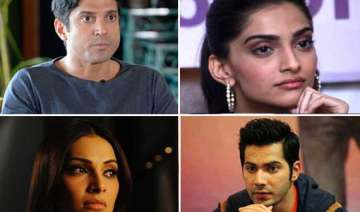 India TV Entertainment Desk
August 24, 2013 6:53 IST
New Delhi:
Bollywood celebrities like Sonam Kapoor, Farhan Akhtar, Anupam Kher, Bipasha Basu among others took on the social networking sites to express their anguish over yet another brutal gangrape of a 23-year old girl in Mumbai on Thursday. 
The girl, who worked for an English magazine in Mumbai, was gang-raped by five men in Parel area in central Mumbai, near Shakti Mills in Lower Parel area.
Here is what our Bollywood stars have tweeted: 
Sonam Kapoor:
I' m really shocked and taken aback with the recent shameful incident that took place in Mumbai yesterday. A sheer act of cowardice. I' m appalled! Photojournalist gang-raped in Mumbai, over 20 detained.
Karan Johar:
Helpless to say the least...words like "devastated".."disgusted" mean nothing at a time like this! #gangerape in my city... I feel ashamed.
Farhan Akhtar:
Dear CM, Home min state, Police Comm and sluggish judiciary... Wish u all were everyday women so you'd truly realise the fear they must feel. There has to be harsher punishment for rape and a fixed time limit within which cases must reach a verdict in court. Wake up system!! Cannot understand if everybody seems to have known this compound is where drug dealers & addicts hung out, why nothing was done earlier?
Bipasha Basu:
More shock and more remorse! What about more justice and justice which would scare and stop these filthy animals who live in human skin!
Aditi Rao Hydari:
This is a country of demons who rape and kill every second day. Crying with shame, fear, anger, disgust- wake up shameless system creators.
Nargis Fakhri:
I know it's my big day today but I'm disgusted at the news reports of another gang rape here in Mumbai. This is becoming a sickness! Disgusting and appalling!
Gul Panag:
Sad validation of the fact that NO city in India is safe for women.It is after all the same prevention/enforcement mechanism in use all over.

Sophie Choudry:
A young photographer gangraped, her colleague thrashed at 5pm in Mahalaxmi area Mumbai. Still no fear..Rapists feel they can get away! Economy is down, corruption on the rise and state of law and order is shameful. Are we supposed to put up with this till next election? #SHAME. When I moved from London to Mumbai, I used to pride myself in saying I live in one of the safest cities in the world. The joke is on me! We are a nation that's becoming bankrupt on every front: financially, emotionally, mentally. Feel helpless and ashamed.

Amrita Rao:
There is no "fear of Punishment" encouraged by our Judiciary system. Justice is delayed or denied ...what happened to Nirbhaya convicts

Boman Irani:
The innocent yet wise conversation with mom comes to a screeching halt with the news of the Mumbai gang rape. Shame!
Vishal Dadlani:
Aaaarrggghh! I hate what we've become! We sit around while politicians do nothing to protect women! Has India's youth become so helpless? Mumbai! City of rapists, molesters and apathetic citizens! Everyone who sits around waiting for shit to solve itself, be ashamed! WE did this! Who, amongst you, is not willing to accept this? If I go and sit on a silent fast at Mantralaya, will you come? We can't take this any more! Enough of these bogus promises from these bogus politicians! We must make our streets, our city safe for women NOW!! Ourselves!! I can't believe this is happening. The Bombay I grew up in, was a city of culture and peace. Mumbai is a heartless city of business and darkness. I'm so angry I have tears in my eyes. I want safety for my family. I want my city back. When did Indian men become so weak and so scared, that we are unable to protect and respect India's women? Shame. So angry. How did we let India come to this? A country that treats it's women so badly that NO woman has escaped some degree of molestation.
Isha Koppikar:
Our system sucks.. Atleast mumbai was considered safe .No city in India is safe for women, no more.Sad very sad. Rapist shud be hung in public and tortured to an extent where any other perpeturator shud shudder even wid the thought of rape. It's only so much that the law can do, the rest is upon us, lets direct our anger towards the monsters who raped a 22 year old journalist.

Lara Dutta:
Since we're becoming more and more depraved and barbaric as a society, why don't we follow thruogh with all barbaric customs, hang rapists in public! An activist has to die for a law to be passed! How many more women need to be raped in order for swifter and apt punishment to be meted out?

Aftab Shivdasani:
Shocking,disgusting and outrageous.. So how many more crimes before the government decides to incorporate the sternest law? MumbaiGangRape

Preity Zinta:
Nothing feels more DISGUISTING than reading of ANOTHER RAPE in the newspapers. Hope the lawmakers realise that they have failed this country.
Divya Dutta:
I think they shud b castrated,all these rapists!
Riteish Deshmukh:
Shamed and angered.

Mika Singh:
My support to the journalist girl who has gone through the trauma, if a girl like a photo journalist is raped then what about the safety of normal and uneducated girls.
Kunal Khemu:
Never thought that gang rape and mumbai could be mentioned in the same sentence. Feel sad and angered. Mumbai was once a safe city.
Yami Gautam:
Disgusted to hear about growing number of rape cases. How do they get this audacity despite so many protests? Capital punishment is the word.

Neha Dhupia:
These bastards are creeping and crawling into every nook and corner. Get rid of these rapists by punishing them in the harshest way possible.
Shoojit Sircar:
Horrible incident of rape in Mumbai... it's sad.. shame..
Anupam Kher:
There is NO fear of Law. Rape cases go on for years. Nobody is Hanged for Rape. Politicians are interested in Power. NOT Welfare of People.
Shruti Seth:
I hate to admit it, but I'm ashamed of being a Bombayite today. And I am ashamed of my country and its pathetic political and judicial system.

Dino Morea:
Nobody gives a shit about any law here, no fear, hence incidents like this. The assholes know they can get away with anything.Please instil FEAR.
Madhur Bhandarkar:
Stunned and saddened to hear about the horrific gangrape in our city. This is NOT the Mumbai we know it to be. A moment of absolute shame.

Ritesh Sidhwani:
Gang rape in Lower Parel. Looking at what we have come to its time we start punishing these perverts publicly.. Stone them, castrate them, jail them for life. We need to create a stronger deterrent or this will not stop.

Farah Khan:
Obviously tweeting our outrage has Made NO difference whatsover!
Sunidhi Chauhan:
It's such a shame!!! Mumbai?? Can't imagine this! Kya ab bhi sirf is baare mein baatein hi karke reh jayenge hum log? No! India is not safe anymore! I thought wrong!

Manoj Bajpayee:
Mumbai is shamed by the incident of gangrape last night.we all hang our head in shame that we can not give a safe world to women.

Shreya Ghoshal:
Disgusted disgusted disgusted. A gangrape in daylight in our so called 'safe' city Mumbai..

Varun Dhawan:
Just heard the news about a gangrape in Mumbai. Disgusted! Please publicly hang these people. Sickened with these repeated acts by cowards.

Ehsaan Noorani:
Appalled at the news of the gang rape today.. What is with this country?

Tisca Chopra:
Can't be happening in Mumbai.. a city full of working women.. working all hours of the day and night..

Pooja Bhatt:
Mortified to hear about the gang rape in Mumbai yesterday which occurred in broad daylight. This is not the city I grew up in. Ashamed!

Celina Jaitly:
Devastated to hear of gangrape of r dear journalist in Mumbai, SEVERE action HAS tobe taken to make RAPE punishmnt EXTREME to instill FEAR. Our legal system is so weak, RAPE PUNISHMENT does not even qualify as punishment and the time taken to conviction is a JOKE!
Dino Morea:
Disgusted as to what's happening in Mumbai. Hope the Rapist B******* are caught and hung.